FUTURE STARS SUMMER CAMPS
THE ULTIMATE SUMMER CAMP EXPERIENCE!
BIG SAVINGS WHEN YOU ENROLL BY DECEMBER 1ST!
9 Long Island locations & over 40 programs to choose from!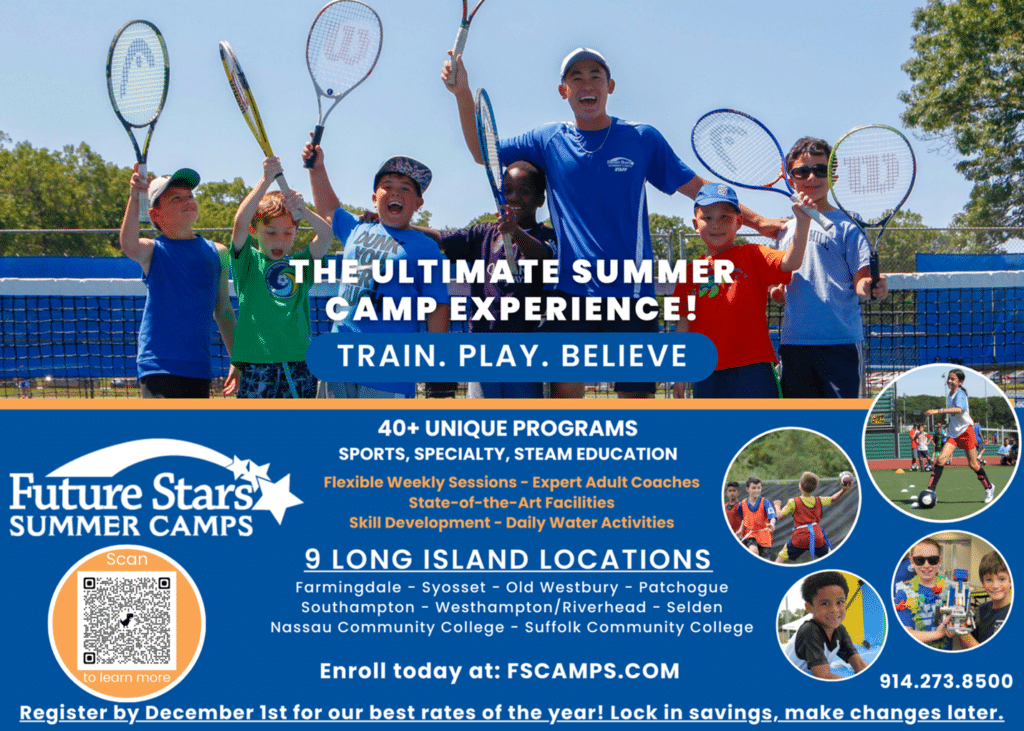 Why Future Stars Summer Camps?
For over 40 years, Future Stars has been providing families with the most outstanding specialty day camp programs in the New York Metro Area. They are driven by a passionate commitment to the holistic development of their campers. Their mission is to provide a dynamic and supportive platform where young athletes and learners can not only excel in their craft but also cultivate essential life skills that extend beyond the classroom and field of play. With 9 convenient locations across Long Island and over 40 programs to choose from, there is something for everyone. Develop skills and self-confidence in the sport of your choice or try something new in one of their popular STEAM Education programs, they're all amazing! A balanced day of skills training, daily water activities and supplemental recreational activities ensures campers have a perfect blend of instruction and fun. See the difference expertly crafted curricula, adult staff and state-of-the-art collegiate facilities can make!
They Take Pride In Their Staff
Future Stars employs a highly qualified staff that predominantly consists of full-time certified teachers and coaches. You will not see a high school kid running a group at Future Stars, which is something that sets them apart from the others. Future Stars employs and empowers professionals with expertise and experience in their fields that have extensive experience in coaching, instructing, and effectively designing a curriculum that meets the needs of each respective camper. On-site athletic trainers and EMT certified personnel are in place for any medical needs.
Facilities
Outstanding collegiate facilities or private schools and clubs is where all the fun happens! Future Stars locations are situated on sites with plenty of space and modern amenities, but rest assured that your child will still receive that nurturing campy feel. State-of-the-art field complexes, baseball and softball stadiums, tennis courts, air-conditioned gymnasiums, classrooms, computer labs, heated pools, and numerous multi-purpose grass-fields are utilized daily by their campers. The facilities allow campers to participate in a safe and dynamic environment that encourages skill-development and increased confidence.
Locations: (click below for more info)
Suffolk County Community College
914.273.8500
TRAIN. PLAY. BELIEVE