Goldfish Swim School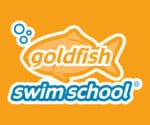 Goldfish Swim School in Garden City offers swim classes and other programs for children 4 months to 12 years of age. Our developmentally appropriate curriculum offers top-quality swim lessons coupled with an experience you can't get anywhere else! Being comfortable and confident in the water is of the utmost importance to us, and we know it is to you as well.
We keep our water temperature at a warm 90 degrees to make the learn-to-swim experience as inviting as possible. And, with our state-of-the-art water purification system, you can count on a safe and clean environment for your child(ren) to swim.
With a 4:1 student to teacher ratio in our group classes and a 6:1 student to teacher ratio in our baby classes, your child(ren) will get the attention they need to advance their comfort and confidence in the water. It can be terrifying for a child to try something new for the first time, but we've found that the effects aren't nearly as bad when they're with a group of other kids. That's why, at Goldfish, we're big proponents of small group swim lessons from our Mini to Pro levels.
If you're simply looking for more information about our facility, please call (516) 267-5120. We are more than happy to spend some time on the phone and/or give a tour of our facility, if possible. For a quick reference, you can search our website for information about our swim lessons and other programs that we offer.
Send Message to listing owner
Goldfish Swim School