Herbalice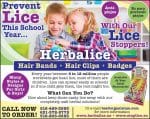 LICE AREN'T SO NICE
Every year between 6  to 12 million people worldwide get head lice, most of them are children. Lice can spread easily at schools so if one child gets them, the rest  might too.
What Are Head Lice?
Lice are small, wingless, blood-sucking insects. They live in the hair, on the scalp and feed off your blood. A louse (adult lice) is about the size of a sesame seed.
Who Is at Risk for Head Lice?
Preschool and elementary school students have the highest risk of getting head lice. They tend to play closely together and share items that touch their heads. There is also an increased risk of head lice for family members of school-aged children. People who work in a day care center, preschool, or elementary school share this risk.
What Can We Do?
How about we keep those nasty nits away with our completely safe herbal solutions?
Hair Bands and Badges  
Our head lice stoppers are specially produced, packaged and do not contain any harmful substances .You can use them on yourself and your children safely. Not useful for children under 3 years old. Head lice stoppers include herbal Cinnamomum Camphora and herbal Lavandula Angustafolia flowers. Each hair band lasts  up to 6 months after it is  opened  along with the badges which lasts up to 4 months after opening.
www.herbalice.us     www.stoplice.eu
Please order now  for each by calling
516-499 3593 or 631-372-8775 or 516-205-6583
Send Message to listing owner
Herbalice