Kzam Inc.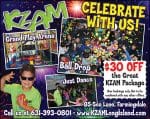 KZAM Next-Generation Party Center offers awesome birthday bashes where kids of all ages can enjoy a truly unique entertainment experience found nowhere else on Long Island.
With three levels of fun, the KZAM Grand Play Arena contains thousands of foam balls that move through tubes, shoot out of a volcano, blast though ball blasters, and get sent cascading down three stories from the giant tipping basket.
Plus, kids can slide and climb through the enormous structure. Parties continue in the KZAM Event Room outfitted with a DJ, lighting, quality acoustics and a gaga ball pit. The DJ organizes age-appropriate activities for guests, and KZAM staff ensure children all get to engage in fun games.
When the party winds down, children enjoy pizza and cake in the private Celebration Room. KZAM can host parties of any size, from a small gathering with just a few of your child's best friends to a large event with as many as 100 guests.
KZAM Birthday Party Q&A
What ages is KZAM designed for?
KZAM is designed to be fun for all ages, and especially appropriate for those between the ages of pre-school through middle schooI. It is also gender neutral fun with something truly for everyone!
Is KZAM a Family Entertainment Center that is open to the public?
No, we are a reservation-only party and event facility. Our goal is to maintain a clean, safe and wholesome atmosphere. When KZAM has Special Events such as Open Play, these will be announced on our website and reservations will be taken accordingly.
Are KZAM birthday parties private?
Yes, every party is absolutely 100% PRIVATE.
What should i expect the party to be like?
Every KZAM party starts in the Grand Play Arena, a huge 4000 square foot space with 23 Foot ceilings. Inside is the KZAM Grand Play Arena, a three-story soft play structure with an atrium center filled with Ballocity TM equipment: our Ball Volcano centerpiece, Thousands of Foam Balls, Ball Blasters, Ball Circulation System, Tipping Basket, Sphere Vortex, Hyperblower and even multi-shot Auto Blasters on the very top level!
Are the ball blasters safe?
Can little kids play with them? Yes, absolutely. All the equipment in the Grand Play Arena is suitable for all ages. The ball blasters are located on the second and third level of the structure and are aimed into the atrium area only. This US and Canadian patented design ensures all our guests can play in a safe manner.
Can all ages play together?
Yes, it actually works better to have people of all ages playing together. Very small children love to feed the vacuum tubes on the first level, which helps the older children on the second and third levels by supplying them with balls to be used in the blasters. The younger children also love to fill the big dumper basket and work the ball volcanoes. There are also slides and other play elements on all the levels suitable for all ages. All the levels are sized so that adults can comfortably play with their children, and this is encouraged.
What is the KZAM Event Room?
After the Grand Play Arena, your KZAM party moves into the adjacent KZAM Event Room, a 1500 square foot space equipped with DJ, lighting, acoustics and a gaga pit. Guests are entertained by a DJ who will organize activities appropriate for the age of the participants. As the party gets going, our octagon-shaped dance floor becomes a gaga pit and games are run by our KZAM staff, adapted again to the age group.
What is gaga?
Gaga is a simple game that resembles a slower-paced version of dodgeball, where the soft ball is rolled instead of thrown, and players must try to not get hit below the knees. It is played in an octagon shaped court and is appropriate first-graders and up. For our Toddlers through Kindergardeners the gaga court doubles as a perfect-sized activity ring for circle, parachute time and music activities. It also makes for a great dance floor for kids who love to dance!
Speaking of dancing, can we make special music requests to the DJ?
Our DJs have access to a huge music library that includes current top-40 and a few old favs. We allow requests to be made for songs that we have available on our existing playlists provided the song can be coordinated with the activity. For example, requests are easily accomodated during games such as freeze-dance or gaga. The songs on our playlist have been screened and approved by our management team for age-appropriate content and new songs may not be downloaded by KZAM staff during your party.
Where do we have the birthday celebration?
Your party culminates in our Celebration Room. Pizza is served. Parents are welcome to bring a cake or we are able to provide an ice-cream cake at an additional cost. A catering menu suitable for you adult guests is also available. No outside food is permitted with the exception of the birthday cake.
Can KZAM handle my very large event?
Yes, The Grand KZAM package is appropriate for very large groups of 45 to 100 children. The KZAM Play Structure is enormous and designed to safely and comfortably hold very large groups. Your two-hour Grand KZAM package features extended time in the Grand Play Arena and both playroom and the KZAM Event Room are open to your guests at the same time.
Where is KZAM located?
KZAM is located on the Nassau/Suffolk border along the Route 110 Corridor at 85 Sea Lane, Farmingdale, New York. KZAM is one block west of Route 110 across from Walmart Shopping Center and Republic Airport and minutes from all major parkways.
Send Message to listing owner
Kzam Inc.