Stuff-A-Bear Parties
Bouncers & Slydos
"the softest playground on earth"
Imagine a large room filled with balloons, but not your everyday blown-up balloon on a string type. These are in the shapes of over-sized trampolines, a jumbo obstacle course, ceiling-high slides, a giant soccer goal and other massive rides.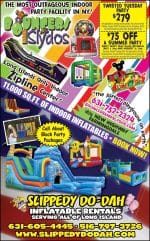 Slippedy Do Dah Is Long Island's choice for inflatable rentals. Whether you are having a birthday party, block party or anything in between Slippedy Do Dah is the place for all your amusement needs.