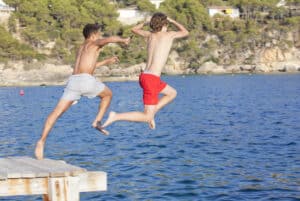 Welcome to our 2023 Guide for Long Island Summer Camps. Summer comes back quicker and quicker every year or it just feels that way. At Your Local Kids Source we know how important it is to keep the kids busy during their summer vacation. This is the reason why we have created our list of Nassau County Summer Camps and Suffolk County Summer Camps.
No matter what your child's interests or needs, there's a summer camp on Long Island just for them. From all-day and half-day camps, to camps that cater to special needs children and children with specific interests (like theatre or sports), there's a camp close to you that will meet their needs in Nassau County or Suffolk County on Long Island:
Nassau County
Suffolk County
Summer Day Camps
All-day summer camps can give kids the interaction and entertainment they need to stay active during the summer. The all-day summer camps in our directory include everything from general full-day summer day camps to community center programs. Half-day summer camp programs are also available for children who don't have the time for a full-day camp.
Special Needs Summer Camps
Are you looking for a summer camp for your special needs child on Long Island? While not as abundant as general needs camps, you may find a camp that meets the special needs of your child in our directory. The camp supervisors and counselors at these camps are specially trained to meet the special needs of your children and ensure that they are spending their time in a productive, fun way. Check our Special Needs Camps for more information about camps for children with special needs in Long Island.
Specialty Camps
Does your child have specific interests or talents that they are looking to further develop during the summer season? There's no reason they can't make productive use of their summer to further develop their skills in a specialty camp in Nassau County or Suffolk County on Long Island. From Academic to Theater to one of any number of specific Sports Camps, there is a wide variety of specialty camps on Long Island that can help your child continue to develop their skills during the summer.
Academic Summer Camps
Your child can use his or her summer vacation wisely by boosting their academic skills at a summer camp. Long Island has everything from French summer camps and summer science camps to camps focused on marine science, forensic science, science center summer camps, language summer camps and more. When you enroll your child in an academic summer camp, you will help prevent learning loss over the summer as well as help your child to get a head start on the next school year. The summer vacation period can be a long time to be without academic enrichment and keeping your child's mind engaged and learning can provide them significant educational benefits.
Sports Camps
Your child will be thrilled to attend a summer camp where they get to enjoy their favorite activity every day! Here are some of the types of sports camps available on Long Island:
Baseball Summer camps
Summer baseball camps and youth baseball camps can teach your child the skills they need to start playing baseball or boost their skills while enjoying time with other kids who are also interested in baseball. Baseball camps for kids can make a big difference in their skills and ensure they enjoy their summer productively.
Summer Basketball camps
Basketball summer camps, including girls summer basketball camps are available throughout Long Island. Let your kids shoot and score to their heart's content by enrolling them in basketball camps for kids and children. When you enroll your child in a basketball summer camp, they will learn everything from the basic skills such as how to properly catch a ball to advanced footwork and passing techniques.
Summer Cheerleading camps
Cheerleading summer camps can be the perfect way to foster a winning spirit and learn everything from cartwheels and cheers to tumbling and interesting cheerleading tricks. Cheerleading camps are filled with a variety of fun activities, such as dancing, crafts, motion, cheers and more. Your child will be able to form lifelong friendships and learn the value of team sports. Find out more about cheerleading camp options available on Long Island.
Summer Fencing Camps
Fencing summer camps are the ideal way to let your kid focus on the unique skill of fencing. When you enroll your child in fencing camp for kids, he or she will get experienced training and be able to play their favorite sports with others in their age group. At fencing summer camps, qualified instructors teach skills in a progression from beginner to higher levels. Many of the children who enroll in fencing camps have never tried fencing before. Here they can learn everything they need to know about safety and protective gear. If your child is interested in the ancient sport of fencing, a Long Island fencing camp can ensure they learn the skills with qualified and experienced instructors.
Summer Football Camps
Football camps for kids and children will expose your kids to the winning team spirit, strategies, skills and everything they need to know to boost their football game. Youth Summer football camps are a great idea for every child who loves football. Learn more about football summer camps available for your child on Long Island.
Summer Golf Camps
Golf summer camps for juniors and summer golf camps for kids include great golf skills training as well as fun activities for kids. The skill-based activities of summer golf camps are all tailored to improve your child's golf skills during the summer. These camps are ideal for new junior golfers, intermediate level junior golfers as well as more experienced players. They will get hands-on instruction each day and learn about the golf fundamentals while they are having fun with kids their own age. Functional skill development, including full swing, short game, rules and etiquette are all covered. Summer golf camps are a fantastic opportunity for children and teenagers to improve their technical skills as well as develop strong friendships that will last them a lifetime.
Gymnastics Summer Camps
Summer gymnastics camps for kids are a great way for your child to spend their summer productively while building their gymnastics skills and coordination. Learn more about gymnastic summer camps for children and teens.
Horseback Riding Summer Camps
Horseback riding summer camps are great for kids who are interested in horseback riding. Not only will they get professional instruction, but they will be able to spend time with kids who have similar interests. Learn more about horseback riding camps for kids.
Ice Hockey Summer Camps
Summer ice hockey camps include boys and girls ice hockey summer camps and youth ice hockey summer camps. Get in touch with one of these providers to learn more about ice hockey camps for kids and children.
Summer Sailing Camps
Sailing summer camps include everything from sailing camps for kids and for teens. In one of Long Island's sailing camps, your child will be paired with experienced sailors and be able to feel the breeze in their hair as they learn about vessels, boats and other sailing equipment. Licensed and certified instructors will teach them everything they need to know about spending time at sea. Learn more about sailing camps for children here.
Summer Soccer Camp
Day soccer camps for kids can give your child the exposure they need to boost their soccer sills and make friends. In addition to soccer skills training, games and competitions, your child will be able to make friends from all over Long Island while improving their soccer game. They will learn about shots, passes, ball control, fair play, goal shots, defense strategies, marking, and most importantly, how to cultivate the right attitude on the field.
Swim Summer camps
Long Island swimming summer camps will ensure your child spends as much time in the pool as possible to boost his or her swimming skills! Besides basic water safety skills, your child will learn about breathing techniques, stroke techniques and more. They may even be able to take part in individual and relay races and have fun with other swimmers.
Tennis Summer Camps
Summer tennis camps for kids and summer tennis camps for high schoolers are available throughout Long Island. Regardless of your child's age or experience level, find out more about summer camps for tennis in Nassau and Suffolk. Whether your child has never picked up a racket or is a skilled tennis player, these camps can give him or her hands-on training, point play and set play strategies, fun drills and other great activities they need to boost their skills.
Summer Wrestling camps
Your child can improve his or her wrestling skills at one of Long Island's many summer wrestling camps. Enroll your child and they will learn about different wrestling techniques, how to analyze their opponents and increase their strength and conditioning through fitness strategies.
Self Defense Summer Camps
Enroll your child in a Long Island self defense summer camp where they will learn the crucial skills he or she can use to defend themselves while enjoying a fun, interactive environment. The many self defense camps on Long Island give kids of all ages the strength, techniques, mobility and flexibility they need while they practice against other children their age.
Summer Karate Camps
Karate summer camps for kids on Long Island are a great way to learn karate skills and techniques. Your child will learn everything from karate blocks, kicks and punches to judo rolls, drops and grappling. They may also take part in sparring drills with padded weapons and obstacle courses, friendly competitions and other skill-building games. Find out more about Long Island karate camps for children.
Martial Arts Summer Camps
If your child is interested in martial arts, then a summer martial arts camp may be something that you should consider for them. A summer martial arts dojo can teach your child the different disciplines involved with various forms of martial arts, including judo, karate, tae kwon do and more. Find out more about martial arts camps for children on Long Island.
Summer Music Camps
A Long Island summer music camp can help your child focus on his or her musical talent while building their skills with their favorite instrument. Summer music camps for kids, music camps for teenagers, as well as music summer camps for high school students are all available throughout Long Island. During summer music camps, children learn about music theory, music theatre, singing, reading music as well as receive training related to their instrument of choice.
Summer Dance Camps
Is your child passionate about dancing? Dance camps are a great way to let them take part in an activity that they enjoy in a structured, fun way. Dance camps for kids and even hip hop dance summer camps are all offered on Long Island. Whether your child is an up and coming ballerina or the next classical ballroom dancer, he or she will have fun and build their skills at one of the many dance camps on Long Island. Learn more information about summer dance camps.
Acting Summer Camps
Acting camps, specifically summer camps for acting, can provide your child the coaching and guidance he or she may need to boost their acting skills. Drama summer camps and other types of drama camps are ideal for kids, teens and high school students. Some of the activities include improv classes, scene study, monologues, performance techniques, script analysis, character development, acting dialects, mime, audition coaching, comedic role acting and more. If you want to help your child become a more confident actor or performer, then enroll him or her in one of Long Island's many acting summer camps.
Theater Summer Camps
Theater camps and musical theatre summer camps can ensure that you child is engaged, entertained and learning valuable theatre skills over the summer. Find out more about summer theatre camps on Long Island.
Summer Art Camps
Summer art camps will help your child focus on their arts skills. Whether they're interested in painting, sculpting or drawing, art camps can be a place where they explore their potential and build on their talent.
Summer Cooking Camps
Cooking camps can help transform your child into the next Master Chef. Summer cooking camps for kids and teens are a great way for them to focus on a fun skill with other like-minded children. At a Long Island cooking camp, your child will learn basic kitchen safety and awareness as they will become more independent in their newfound cooking skills. They will learn great recipes and have fun baking up a storm with children their age.
Pre School Summer Camps
Preschool and Toddler summer camps are designed to keep your youngster busy with age-appropriate fun, learning and activities. Dedicated teams of camp instructors and staff are equipped with the appropriate teaching qualifications and first aid training to ensure that your child is taken care of, engaged and stimulated throughout the long summer days on Long Island. Learn more about pre school summer camps here.