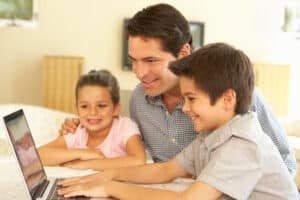 In today's day and age it's nearly impossible to avoid technology. Chances are, your children have access to a tablet or a computer at home, and as a parent your top concern is always keeping your Long Island family safe and protected. Here are ten helpful cyber safety tips to keep kids safe:
Educate your Children
It's important that kids of all ages understand the potential danger of the Internet, rather than assuming they are aware. Explain why it is important not to give out personal information, and how not everyone is who they claim to be online.
Discuss the Permanence of Online Posts
Many children don't understand that there can be consequences to their actions online. Help them become aware that anything they post online – from quick tweets to photographs – are viewable by anyone, and even if deleted can still be traceable online.
Keep Internet-Active Devices in a Common Area
By keeping computers, tablets, iPods, and other gadgets in a high-traffic area of your home, you can supervise what your children are doing online without needing to pry. This also helps set time guidelines while keeping both of you aware how much time they are spending on the Internet.
Use Parental Controls and Follow Age Restrictions
Learn about the parental controls and security features of new electronics before allowing your child to use them. Take advantage of features such as Safe Search, time limits, and browsers that permit restrictions on adult content. Be attentive to the suggested ages for websites, games, and apps. Follow the age restrictions for social media sites.
Be Involved with your Kids Online
Spend some time on the Internet alongside your child, and learn from them! Become familiar with the websites, apps, games, and tools they enjoy using, and how they choose to use them. Stay connected with them on Social Media and try to avoid embarrassing them or being accusatory. By spending time as a silent witness, you're opening the door to honest communication and encouraging them to share with you.
Show your Child how to Identify "Red Flags"
Encourage your kids to question the motives of anyone they come into contact with online that they do not know personally. Talk to your kids about questions they should never respond to from an online stranger, such as their name, address, phone number, school, or other revealing information. Tell them that if they ever encounter anything that makes them uncomfortable, to log off and immediately make an adult aware.
Talk about Cyber-Bullying
Even the most well behaved children sometimes fall prey to the lure of cyber-bullying, without even being aware. Talk to your kids about how easy it is to say things behind a keyboard that you wouldn't necessarily say in person, and how they can easily be misconstrued or taken out of context. Let them know if they ever become a victim of a cyber-bully, or see someone else being bullied, the best thing they can do is speak up about it and come to an adult for help.
Take Time to Disconnect
Setting time limits early on allows your child to develop a healthy relationship with using the Internet. Set time limits for using electronics of any type, and set aside a period every day when your entire family disconnects and spends time together.
Strike up a Conversation
Don't be afraid to ask your kids how they feel about the rules of your family, different websites, and online games. Take the time to hear them out, even if you disagree; and listen to their reasoning. Keep in mind that all children mature at different rates, and just because a game or website has a suggested age doesn't guarantee your child is ready for it.
Set an Example
Remember that your children look to you to set the example. Although it may be hard to shut off your computer or cell phone, especially if you use them for work, it is very important. Explain to your children how you use technology, and talk to them about what you're working on.
For more information and other tips catch up on some of our other blogs!