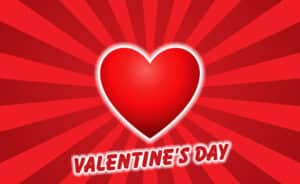 As Valentines Day approaches, chances are that you have seen plenty of candy lining the aisles of your favorite Long Island store. As much fun as it can be to indulge in a treat or two during the holidays, too much candy is never a good thing. Here are 10 great Valentines your children can make at home that don't require candy to be sweet!
Valentines Day Bookmark
This craft is very simple to make any way you choose to. Using cardstock or cardboard, trace your bookmark using a ruler. Write a message for your recipient, design it, and gift away! You can also use a colored paperclip, adding feathers or ribbon along with a special note.
Hands from the Heart
This is a great project for even the youngest children and is an excellent keepsake. Have your child trace their handprint and cut it out or create a handprint using non-toxic paint and construction paper. Once the project is done, encourage them to add a personalized note to their Valentine.
Cupid's Arrow
Pencils make a perfect Valentine for school-aged children, and these are sure to come in handy! Plain yellow pencils can be painted or covered with glitter. Wrap a piece of duct tape around the pencil right below the eraser, and cut into the shape of a feather. Cut a small heart out of paper, and glue to the other end of the pencil. A card can be created and tied around your arrow or attached with a string.
Healthy Butterfly Snacks
Instead of candy, offer children a healthy alternative this Valentines Day. Some good suggestions are snack crackers,  grapes, or cherry tomatoes. Put snacks in a zipping plastic bag, and tie the middle with a pipe cleaner. Fold the pipe cleaner into antennae, and add a special message!
Love Bugs
Use an online template or cut out paper into the shape of a jar, glue or tape a plastic insect toy inside. You should be able to find plastic insects or butterflies at local dollar store, or buy in bulk online. Have your child write a special message to his or her "love bug".
Special Seeds
Spring is right around the corner, so why not create a valentine out of a packet of seeds? Wrap the package with construction paper or blank wrapping paper, and encourage your child to decorate the outside with a note for their valentine.
Bracelet from the Heart
Looming is incredibly popular right now, and many kids enjoy  making jewelry for their loved ones. Use colored thread and help your child to braid a Valentines-themed bracelet for their friends and family. After it's completed, punch holes through cardstock to secure the bracelet and add your Valentines' Day message.
Message in a Bottle
With a quick Internet search, you'll be able to find miniature plastic bottles intended for crafting. Buy enough for your child's whole class, or a couple of close friends, and help him or her to write a special message for each Valentine. This is a gift that certainly won't be forgotten!
Valentines Day Coupons
These little books have been a popular gift idea for decades, and make excellent gifts for family members. Help your child to assemble a small book of coupon-styled sheets, and decorate each page with a special task, chore, or favor they will do for the recipient upon receiving their "coupon".
Heart Shaped Bird Feeders
To make roughly a dozen hearts, mix 4 cups of birdseed with 1 envelope gelatin, ¾ cup flour, ½ cup of water, and 3 tbsp. corn syrup. Mix everything together, and spray the inside of a heart-shaped cookie cutter with oil. Spread your mixture onto parchment paper, and cut into hearts using your cookie cutter. Make a hole to attach to a ribbon or string, and allow to dry for   several hours. Once completely dry, attach your ribbon or string and a special note or nametag. These make for very clever and useful gifts!
Be sure to check out more of our Valentines Day Crafts, and view our event calendar for great Long Island activities for your family.