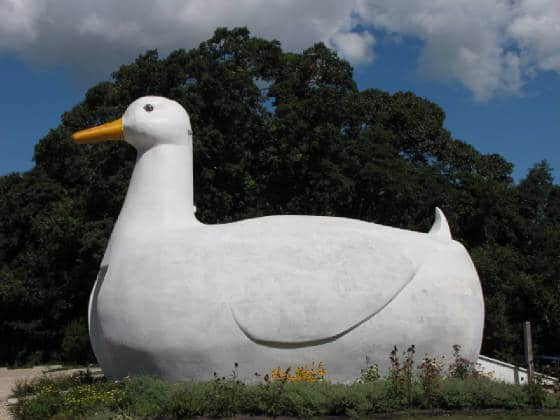 October 13, 2020
With the weather getting colder and muggy, it's always nice to take a drive to a destination where you don't have to leave your car. And now, with distance learning it's important to take the opportunity to find a little education in every adventure. Today, we're giving you a little Long Island history lesson to take on the road.
#1. The End – Montauk Lighthouse
Due to current restrictions, you cannot go inside the Montauk Lighthouse. But it's still a beautiful drive and view. The lighthouse is a national landmark with 360 views of "of Block Island Sound, Atlantic Ocean and beyond."
#2. Camp Hero State Park, Montauk
Have a trains, planes and automobiles child? While out at the light house, check out Camp Hero State Park in Montauk, the old Air Force base. If it's a nice day, take a break here for a picnic lunch at the park!
#3. The Big Duck
Who doesn't love a giant duck? The Big Duck national landmark was designed by Broadway set designers the Collin's brothers. It's a collaborative project of amazing minds including local farmers, architects and visionaries.
#4. Jones Beach Water Tower aka-The Pencil
The circle point at the Jones Beach Water Tower, AKA The Pencil, is not only an excellent point of navigation, connecting three major beach parkways…it's also a functioning water tower. In the link, we've listed a bunch of fun facts about "The Pencil"
#5. 9/11 Memorial, Point Lookout
9/11 is an important day in both NY and American history. The 9//11 Memorial in Point Lookout is a great way to teach your children about how the event affected many of our neighbors and friends. The memorial is located at 61 A 00520, Freeport, NY 11520
#6. Hercules Pavilion, Stony Brook Village
Got a Disney fan on your hands? Use this opportunity to mix in a dash of Greek mythology with a trip to the east end. Visit the Hercules Pavilion in Stony Brook Village and discuss his legend. Check out the rest of the village, there's something for everyone in Stonybrook.
#7. Oheka Castle
Oheka Castle is a Long Island Landmark that is listed as one of America's Historic hotels. With its rich history of spectacular guest and affairs, and it's beautiful architecture, it's sure to excite your little prince or princess.
#8. See a Gold Coast Mansion
Is your child a literary buff or a Great Gatsby fan? Check out any of the beautiful Gold Coast Mansions that may or not be the ones the book is based on, but inspired the ones in the film.
#9. Smithtown Bull, Legend/Mythology
The majestic Smithtown Bull has an amazing legend that may or may not be true. Take your family on a trip through the story, as you head into town and visit the landmark.
#10. Teddy Roosevelt
Need a history lesson? Take a drive to visit the 26th President at his home on Sagamore Hill in beautiful Oyster Bay. If you checked out the mansions- Sagamore was one of Teddy's summer houses. A Long Island boy in the white house. That will show your kids they can really grow up to be anything!
Take a Drive and Check Out these 10 Must-See Landmarks on Long Island
So even though the leaves are changing, and the air is getting crisp, it's never a bad day for a drive. Set your compass to head out on adventure. Where will you and your family end up?