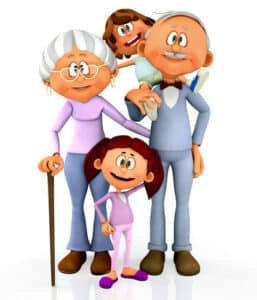 This year, National Grandparents Day falls on Sunday, September 13th. Your Local Kids has ten great ways that your Long Island Family can celebrate such important people.

One of the simplest gifts you can make with your child is something from the heart. Using materials you have at home, you can make a photo frame for a favorite photo, a necklace, bookmark, or even a handwritten letter. If you're lucky enough to live close by, your children can do these crafts along with grandma or grandpa to make it even more fun.
Working with your child to put together a family scrapbook or album is a great way to educate your child on their genealogy and discuss fond memories. Add old photos, stories, or even recipes if you have room. This is sure to make for a great gift or keepsake.
Your child will have a blast interviewing one of their grandparents, and will also learn a whole lot in the process of how life has changed throughout history. Encourage them to write down the responses they receive.
If you're able to, go and visit your child's grandparents and take a day trip together. A fishing trip, museum, or even just the park are just a few ideas to consider.
Have a Tea Party or Picnic
Having a Tea Party or Picnic doesn't require much preparation at all, and is a fun and low-key way to spend time with grandparents. You can even host one at home!
Playing one of grandma or grandpa's favorite games from their youth is a great way for your child to spend time with family, while having fun. Remind your child to let their grandparent choose the game!
If you live by your child's grandparents, you can spend time visiting while planting something new. If there's too great of a distance between you, or their grandparents have passed away – consider planting a tree or plant as a tribute to them.
Everyone wins when cooking together! Have your child ask grandma or grandpa what their favorite family recipe is, and be sure to write it down to keep for generations to come. Prepare it together, and share a family meal.
Being kind to another person can be even more rewarding when you do it as part of a team. Brainstorm with your family for the best way you can contribute to your community or a particular cause you support, and then make it a reality.
Read a Story or Share your Own
Thanks to technology – even if your child doesn't have grandparents nearby, you can still share a story over the phone or video chat. Younger children may enjoy playing back a recording of their grandparent reading the story aloud, and older kids may appreciate reading along with them.
Share with us your favorite Grandparents Day Activity in the comments below, and be sure to stay up to date with our blog for more great activities to share with your children.