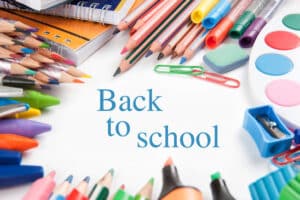 As we woefully approach summer's end, parents and children all across Long Island are preparing for the inevitable return of the school year. Unfortunately, this can also be a particularly expensive time of year, as parents scramble to find the best bargains in Suffolk County and Nassau County. Below are ten suggestions from Your Local Kids to help you save some money when you head out to purchase school supplies.
If you were lucky enough to receive your child's supply list at the end of the school year, use it to your advantage! You can also see if you're able to locate the list on your school district's website. Getting started early allows you to grab items when they're on sale, or there's a coupon available.
For items you know you'll go through quickly, such as pencils, pens, or paper – it helps to buy in bulk. This assures that you have more than enough, and you'll be ready to replenish at short notice throughout the school year.
Tip #3: Read Supply Lists Carefully
Some teachers or school districts require very specific supplies, so make sure you're being attentive to the requests listed on the list distributed to your child. Although you may consider an item to be 'close enough', keep in mind that it may not be, and you may need to go out and buy another one regardless. Holding out for the particular item prevents you from having to make any unnecessary purchases.
Tip #4: Reuse Supplies when Possible
If you have some supplies remaining from last school year that are still in decent condition, it may benefit to start the school year off with those items. This allows you a little extra time to wait for prices to drop, and can help you save a great deal of money.
Tip #5: Keep an Eye out for Coupons
Look for coupons in newspaper circulars, or even direct from the manufacturer. There is a great deal of websites that offer printable coupons, so see what you can find before you head out.
Many thrift stores or garage sales offer unused supplies for a fraction of the cost. Bringing your children along can help transform shopping from a task to a scavenger hunt of sorts. Seeing what retro supplies you find, and who can locate the best bargains is fun!
Tip #7: Shoot for the Sales
Keep an eye out for sales or back-to-school events at local stores. Most places start stocking school supplies mid-August, so be attentive to advertisements and local circulars.
Despite when you wind up purchasing supplies, hold on to your receipt and keep an eye at competitor's prices. Many stores offer a price guarantee, or will permit you to return unused merchandise if you wind up finding it cheaper elsewhere.
Many children will opt for the school supplies that feature popular characters or flashier features. You can save money by purchasing the more generic supplies, and allowing your child to personalize it.
Tip #10: Purchase Quality Items
Although it may be tempting to purchase the less expensive brands, it's important to consider the construction and durability of items you buy. A quality item will generally last longer, and may not require replacement as quickly as the cheaper item, therefore saving you money in the long run.
Liked this article? Checkout our Archives for more.