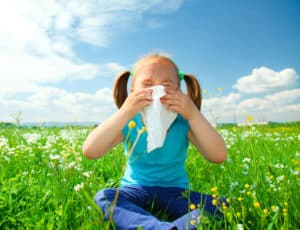 With all of the things to do on Long Island with kids this Spring, the last thing you want to do is have to stay inside due to allergies. Your Local Kids has 3 Tips for Spring Allergies to limit your child's exposure, and ensure they are able to get the most out of this beautiful weather.
Be proactive from the start.
It's important to always be observant of your child's health and behavior, but noticing an onset of allergies is not always easy. Family history plays a factor, and according to United Allergy Services, having one parent with allergies increases a child's risk of developing them by 25%, and with two allergic parents, that risk increases to 60%. A family history of asthma can also make it more likely that your child develops allergies. Most children will not acquire seasonal allergies until preschool age, or early elementary school, but they can be developed later in life as well. Be observant of allergy symptoms such as ongoing congestion, puffy, watery or itchy eyes, or a clear nasal discharge. Symptoms of a cold and allergies can be similar, and there is a chance that if your child has any of those symptoms accompanied by a fever, green mucus, or muscle aches it may be a cold. Always bring your child to your pediatrician for an exam to clarify what may be causing their symptoms. An allergist can determine what is causing your child's allergies – and offer suggestions on how to handle them.
Try to minimize your child's exposure.
It's not realistic to protect your child from any allergens altogether, but it is possible to minimize their exposure. Keep an eye on pollen counts, and when possible, try to plan activities for days predicting lower levels. It is a good idea to plan activities later in the afternoon or evening when possible, as pollen tends to peak in the morning hours. If your child is taking medication for their allergies, always be sure to take it a couple of hours before exposure, so that it will have a chance to begin working before an allergen can enter their system. Also, try to avoid tobacco smoke as it generally may trigger symptoms and increase your child's sensitivities altogether.
Safeguard your Home
When coming in from a day of playing outdoors, have your child change their clothing. If you have any indoor/outdoor pets, brush them upon re-entering the home to remove any dander or pollen they may carry inside. Invest in hypoallergenic textiles for your home, and wash bed linens weekly. Try to avoid opening doors or windows when pollen counts are high, and if you're using an air conditioner or air filter, monitor its upkeep and change filters frequently. Be diligent about other filters you may use – including vacuum, water, and air purifiers; and try to buy higher-quality HEPA filters when available. Have your child shower at nighttime to avoid bringing allergens to bed with them, especially after a long day of playing outdoors.
Dealing with allergies is not enjoyable for anyone, but it doesn't have to ruin the fun of springtime.