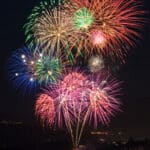 Fireworks anyone? When it comes to 4th of July fireworks displays, Long Island is not in short supply! It is once again time to celebrate the birth of our great nation by spending time with family & friends enjoying barbecues, beaches, carnivals, parades and FIREWORKS! To help find Fireworks Displays near you, Your Local Kids has put together a list of Fireworks Displays in Nassau County & Suffolk County. Enjoy!
Suffolk County
6/29- Bayside Independence Day Celebration & Fireworks!- 6:30pm- Bayside Historical Society- 208 Totten Ave. Bayside NY 11359- FREE- Bring seating- For info call (718) 352-1548 or visit www.baysidehistorical.org
6/30 – Connetquot River Fireworks – 9:15pm – Connetquot River, Oakdale NY -For info call (631) 286-0088 or visit www.grucci.com
7/1- 29th Annual American Picnic & Fireworks !- 7-10pm- Benefiting The Children of Southampton Fresh Air Home- 36 Barkers Island Rd, Southampton, NY 11968- For Ticket info call (631) 283-5847 or visit www.sfah.org
7/2 – Greenport Fire Department Carnival & Fireworks – 6pm- Polo Grounds on Moores Lane, Greenport.
7/2- Sag Harbor Yacht Club's Annual Independence Day Celebration- event begins 9:30am, fireworks at dusk- Sag Harbor Waterfront Village-Best viewing Marine Park or Haven's Beach For info visit www.sagharboryachtclub.com/events/fireworks
7/3- Fireworks Over the Peconic- 6pm- Peconic Riverfront, Main St. Riverhead- FREE- For info call (631) 727-7840 or visit www.riverheadbid.com/fireworks
7/4- Montauk Independence Day Celebration- 9pm-Fireworks at Umbrella Beach- For info call (631) 668-2428 or visit www.montaukchamber.com
7/4- Fireworks and Concert- 4pm- Pennysaver Amphitheater at Bald Hill- 55 South Bicycle Path, Farmingville, NY 11738- FREE- For info call (631) 648-2500 or visit www.pennysaveramp.com
7/16- Islip Arts Council's Annual Concert in the Park with fireworks- Honor our Hometown Heroes- 8pm- Hecksher State Park- 1 Heckscher State Pkwy, East Islip, NY 11730- For info (631) 581-2100
Nassau County
7/2- Summer Free Music Series at Eisenhower Park: TD Bank's "Celebrate America" Fireworks & Show 5pm- Merrick Ave. & Park Blvd. East Meadow – For info (516) 572-0200
7/4- Jones Beach Fireworks- 9:30pm- Jones Beach State Park, 1 Ocean Pkwy, Wantagh NY- FREE- For info call (516) 785-1600
7/4- Music & Fireworks in Glen Cove! 7:30pm- Morgan Memorial Park, Landing Rd, Glen Cove NY- FREE- For info call (516) 676-2000
7/4- Fourth of July Fireworks Display!- Fireman's Firemen's Memorial Field on 128 Albermarle Ave, Valley Stream – Live entertainment starting at 6:30 pm, fireworks begin at 9 p.m.- For more info call (516) 825-8571 or www.vsvny.org
7/8- Fireworks Extravaganza in Long Beach!- 8pm- Long Beach Blvd.- Beach concert, food trucks & more!- For info visit www.longbeachny.gov
7/9- Rockville Centre Annual Fireworks Celebration!- Entertainment and food begin at 6pm- Mill River Park- 295 S Park Ave. Rockville Centre NY 11570- FREE- For info call (516) 678-9300 or visit www.facebook.com/RVCfireworks
7/12- Town of Oyster Bay's Salute to America & Fireworks- 7:30pm- John J Burns Park- Merrick Rd. Massapequa – For info call (516) 797-7980