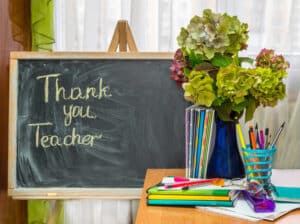 At the end of the school year teachers are often showered with gifts, and they certainly deserve it. This June, show your child's favorite teachers how much you appreciate all that they do with a special homemade gift that you and your kids can make together.
Here are 5 DIY Teacher Gifts that
Your Local Kids is sure they'll love!
Teachers put an endless amount of effort into their work in order to give your kids the best possible school experience. At the end of a long day they may want to pamper themselves a bit. Luckily, many bath products can be easily made at home with simple ingredients. This simple, 3 ingredient, sugar scrub will make any teacher feel luxurious.
Summer vacation is a great advantage of being a school teacher. This summer help them discover their green thumb with these fun and easy to make rainbow seed pods that kids will have a blast making!
From books and papers to pencils and scissors, teachers have a lot to carry. Make their lives a little easier with a DIY personalized tote bag. Apples, flowers, even hand and footprints make for easy homemade stamps to decorate this practical gift teachers can use all year long.
Homemade cookies and cupcakes are always very popular gifts for teachers. While too many baked goods is never a bad thing, it's a shame to see any go to waste! Have your kids surprise their teacher with a batch of cookies that can be enjoyed any time. Simply choose your favorite cookie recipe and layer the dry ingredients in a mason jar. All your teacher has to do is add the wet ingredients to have fresh baked cookies any time.
Even though summer vacation is just around the corner, there's a good chance that your child's teacher has already begun planning for September. Help them decorate their classroom next year with this adorable crayon monogram. This special gift is sure to brighten up any room, and with a little help from you, kids will love making it!
The end of the school year is a bittersweet time for both teachers and students. Throughout the year teachers have great positive impacts on their students. A little appreciation always goes a long way, and no matter what, a teacher will be thrilled just knowing you appreciate the difference they made in your child's life.
Liked this article?
Checkout our Archives for more.