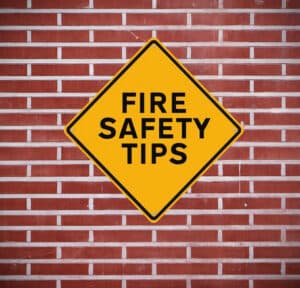 October 4th through October 10th is National Fire Prevention Week, and it is important for all of our loved ones to know how to prevent fires from happening, and what to do in the event of an emergency. Your Local Kids has five great fire prevention tips to keep your Long Island family safe.
Keep Your Family Safe with These Fire Tips
Check Smoke Alarms Regularly
Be sure to place a smoke alarm in or directly outside of every bedroom and on each level of your home. Test them at least once a month, and replace every ten years or earlier if needed. Always follow manufacturer's instructions for placement.
Review your Fire Escape Plan
It's important to review a plan with all members of the household to know how to proceed in the event of a fire. Perform a walk through of your home to determine two ways out of each room. Agree on a safe place in the neighborhood where you would meet if you needed to evacuate. Go over with children how to get low to the ground if there is smoke, stop drop and roll if their clothing catches fire, and how to feel the back of the door and door knob for heat.
Discuss Safety Tips with your Family
Start a discussion as a household on precautions to follow to avoid a dangerous accident. This includes safety in the kitchen, furnaces, and around electrical appliances. If you have a fireplace, make sure it's gated off for young children and safe operation is discussed with any older kids in the home. It's important that children of all ages know not to burn candles, matches or firewood when there is no adult present.
Mind your Electric Outlets
In the current age of electronics, video games, and cell phones, it is very possible to overwhelm an outlet. Remind children to unplug cords not currently in use, and never to plug too many things into one outlet. Avoid using any electronic devices too close to water, and be attentive to cords that seem frayed or bent.
Be Cautious with Flammable Items
It's easy to overlook items we use every day as the possible source of a fire, but it can still happen. Take note of any flammable items, including aerosol cans, cleaning products, and certain fabrics. Avoid keeping lights on when not in use, and never put clothing or any other item over a lamp. Teach young children how to recognize if something is flammable, and go over ways to avoid hazardous scenarios.
Of course, there is nothing more important than being attentive and encouraging your family to be observant of possible danger within the home. Go over important emergency numbers with your kids, including the fire department, police station, and 9-1-1.
Liked this article? Checkout our Archives for more.