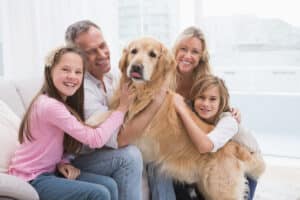 Having a family pet is a wonderful way to teach children responsibility, compassion, and patience. Many pet stores, rescues and shelters in both Nassau and Suffolk County are home to animals that are waiting patiently for a loving home like yours. You know your family best, and it is important to choose a pet that is suitable for your house and your busy schedule. Your Local Kids has five pets that make for an excellent new addition to your household.
With all of the famous movies and books featuring the unbreakable bond between a child and his or her pet dog, it's a no-brainer that dogs make excellent pets. When choosing one, it's important to do your research and to choose a dog with a good temperament around children. Consider choosing an older dog that is already trained and not usually as rambunctious. Dogs are known for being playful, loyal, and lifelong friends.
Although a child can't hold a fish in their hands, they will be delighted at watching their colorful new friend's playful antics in the water. Fish make excellent pets, even for younger children – because you never need to worry about limited space or a potential mess. Help your child sprinkle in the food, and be careful to avoid overfeeding. Consider choosing a low-maintenance friend, such as a beta fish or goldfish when starting out.
A cat can be a good choice for older children, as most enjoy being pet and are generally less energetic than dogs. Be sure to do your research on the best type of cat for your family, and make sure no one that frequently visits the home is allergic. Remember to remind any young children that cats do not like being roughhoused, and that a family pet is not one person's responsibility. Be sure your child takes a turn in changing the litter box!
Although most small animals tend to be better suited for older children, many can be excellent starter pets for even younger kids under proper supervision. Consider choosing a guinea pig or hamster, as long as your child is comfortable holding it, and is willing to commit to bi-weekly cage cleaning. With proper handling, adequate living space, and a good amount of attention, most small animals will rarely bite and enjoy human interaction.
If you're still unsure about accepting the responsibility and time commitment that comes along with most pets, consider helping your child create an ant farm! They are inexpensive, can be purchased online or in many stores, and require very little maintenance. Your child will have the opportunity to explore basic concepts of science, while learning about community and teamwork.
Liked this article? Checkout our Archives for more.