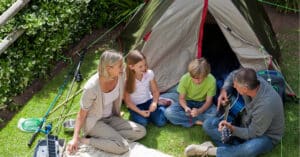 When school is in session, it can be difficult to get the whole family together to take a vacation. You don't want your kids to fall behind on their work, and many vacation destinations can become quite crowded on holidays. This is the best time to take a staycation, or a vacation at home. Here are five affordable and fun staycation ideas for your busy Long Island family.
Have a Frontier Weekend at Home
It's important for kids to learn to have fun without the use of electronics. Head to the library and learn how families lived in frontier times. Storybooks such as the 'Little House Books' by Laura Ingalls Wilder can give children an idea of things kids did for fun before electricity was invented. Brainstorm games that can be played with the lights off. Eat dinner by candlelight. Prepare meals outside, or determine what can be made without the use of conventional kitchen appliances. Learn the arts of letter writing, candle making, or sewing. Build forts in the living room, tell spooky stories, and go exploring outdoors. There is a lot that can be done, and disconnecting entirely from all of your electronic devices allows for a lot more family bonding.
Escape to the Spa… at Home!
It's easy to turn your home into a luxurious spa resort. Start the day off with a warm bubble bath, and then get decked out in your favorite pajamas or a warm robe. You can play relaxing music while you take turns doing manicures and pedicures. Then create easy face masks at home by blending half an avocado with plain yogurt, and allowing it to moisturize the skin. After everyone has received their "spa treatment", spend the rest of the day relaxing with low-key activities such as reading, playing cards, or watching a movie together.
There's no better time to host an outdoor event than a beautiful Spring Day. Invite the neighbors or family over and host a field day. Together with your kids, brainstorm games that are suitable for all ages to play together. Badminton, Kickball, and Soccer are some great suggestions. If you are able to get multiple families in the neighborhood to play together, you can set up a scoreboard to keep tally, and take turns hosting special field days throughout the season.
Go Camping, at Home or Nearby
If you haven't been camping at one of the great parks in Nassau County or Suffolk County, spring is a wonderful time to go. You may choose to do a trial run at home, either indoors or in the backyard, to get your kids accustomed to the camping experience. Pack some healthy meals, warm blankets, and activities. Be sure to explore the grounds with your kids, and take advantage of the time you spend outside in nature wherever you are!
When was the last time you ate dinner outside as a family? We tend to get so wrapped up in our busy schedules, we can forget how simple and enjoyable it can be to pack up and have a picnic. Prepare a healthy lunch to bring with you, as well as a Frisbee, kite, or other outdoor activity. Head to a local park or playground, set up a blanket, and share a meal together. Afterwards, spend time playing or talking together without any distractions. If you're short on time, you can picnic right in your own yard. It's an excellent alternative to your usual routine, and your entire family will appreciate this time spent together.