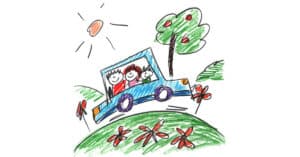 Are you trying to plan your summer vacation and don't want to travel away from Long Island? We call that a Staycation! We have combed the island for you and have come up with three hidden gem ideas for you to consider for your Long Island Staycation.
Staycation Idea 1: Go Camping
Whether in a tent or a camper, a seasoned pro or a novice, there is camping fun for all levels and all ages at Wildwood State Park.  Wildwood is a 600-acre beachfront campground on the north shore by the Long Island Sound.  You and your family will enjoy multiple playgrounds, 2 miles of beaches as well as biking, fishing, and hiking and stand-up paddle boarding.  To make a reservation for the campground, please contact the park office.
Staycation Idea 2: Take a Beach Day
Watch Hill, Fire Island is a major summer vacation attraction. Swim in the Atlantic Ocean or hike in the back forest nature trail.  Set up picnics near the BBQ grills, check out the concession, shop in the souvenir store, relax at the Tiki Bar or dine at the Pier Restaurant.  Watch Hill is easily accessible via the Patchogue ferry, or if you have a boat you can get a day slip, there are 29 of them available!
Staycation Idea 3: Go on a Fishing Trip
Perhaps you want to take your family on a fishing trip for the day.  Captree State Park is located at the beginning of the Ocean Parkway in Bayshore. There are open (to the public) and charter (private) boats available for one day salt water fishing excursions.  The summer months on Long Island is prime fluke fishing season.  The boat staff makes it really convenient for you to enjoy as they do not require you to be licensed or bring your own equipment; they will provide what you need.  The boat charters sail both the Atlantic Ocean and the Great South Bay, so the choice is yours.
There are also alternative options to fishing for a good time at Captree.  You can board a sightseeing tour or even a embark on a scuba diving trip. Even if you want to stay on land, you can take in the breathtaking views of the Fire Island Lighthouse, The Robert Moses Bridge or simply watch the different boats pass.  There are casual dining restaurants open during the season and picnic areas are also available for your use.
Staycation Idea 4: Head to the Farm
Petting zoos are always a family favorite! At White Post Farms in Melville, you and your family can enjoy the petting zoo where you will be able to feed and touch goats, camels, zebras and more! There are a variety of animal, reptile and aviary shows and exhibits your children will enjoy and learn from. The farm's newest attraction is Poppie's Lorikeet Landing; Australian Lorikeets are actually friendly enough that they will eat right out of your hands!
Your ticket to see the animals is a dual access pass; you can also utilize the bounce park.  There are bounce houses and inflatable water slides; a variety for children of all ages. White Post Farms is open 7 days a week for the summer season and also offers different coupons.  To view the hours of operation, show times and additional information, please check out the website.
Staycation Idea 5: Stay Cool
Splish Splash is Long Island's premier water park.  You don't have to travel very far, for all this park has to offer. Kids and adults alike, enjoy the many different pools, wave pools, water slides to swim, slip, slide and stay cool. There are theaters offering different shows, a lazy river, wave pools and an entire kiddie section for younger and smaller children.  Enjoy having a bite in the themed restaurants or at the snack bars. The park is open daily for the season from 10am-5pm.  For additional park and ticket information, please visit the website.
Stay tuned into Your Local Kids blogs for more summer staycation ideas, or fun suggestions for things to do locally. We have got you and your family covered.  There is no need to leave Long Island to enjoy your vacation this summer!