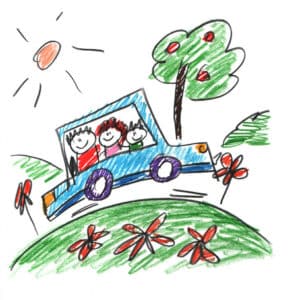 Whether you reside in Nassau County or Suffolk County, Long Island is a central spot for many of the best attractions in the United States. When you are looking for things to do with your kids that make for a fun day trip, Your Local Kids has five great getaways that are sure to keep a bit of gas in the car and a smile on their faces!
#1: Luna Park at Coney Island
Coney Island is a guaranteed hit for both young and old alike. Offering a variety of rides, games, and attractions, Luna Park is a historic and popular attraction outside NYC. Conveniently located right in Brooklyn, there's plenty of shows and entertainment for the entire family; and they have a constantly evolving event calendar. Check out all that Luna Park has to feature here on their website, and be sure to explore the rest of Coney Island with your family while you're there!
A popular destination for families with young children, Sesame Place is under two hours from New York City; and well worth the trip! Your little ones can meet all of their favorite friends from Sesame Street, such as Elmo, Big Bird, and Bert and Ernie. Sesame Place is affordable, and you can get discounts at many local businesses and right on their website.
#3: Jenkinson's Boardwalk on Point Pleasant Beach
Just a short drive away in New Jersey, Jenkinson's Boardwalk is a great trip to take in the warm summer months. Featuring rides, an arcade, and an aquarium – there's plenty to see and do already, plus it's on the beach! Take a stroll down the boardwalk and check out the sights, or catch one of the live bands or firework shows! Check out their website for more information.
Located in the Hudson Valley, The Rocking Horse Ranch is an all-inclusive resort featuring fun for the entire family. They have an on-site indoor water park, pony and horse rides, paddleboats, a heated pool, and tons of entertainment to experience. They even offer day care and a nursery for the younger visitors, so that mom and dad can visit the spa. Don't forget to check out their award-winning gardens and wildlife exhibit. See what promotions they are currently offering on their website.
Long Island is lucky to be home to Splish Splash, which was voted one of the best water parks in the country by The Travel Channel. Featuring plenty of attractions that can appeal to children and adults alike, hot weather is no match for the fun to be had at Splish Splash. To see their current promotions and learn more, click here. Remember to wear your bathing suit, and be prepared to get soaked!
Keep an eye on the Contests and Giveaways offered by Your Local Kids, and pick up a copy of Your Local Kids Source for more coupons and savings to your favorite attractions.
Liked this article? Checkout our Archives for more.