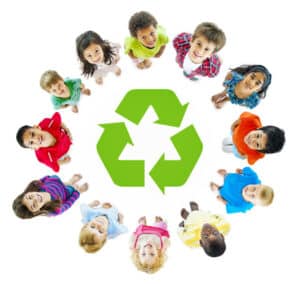 Long Island is a beautiful place to call home. In order to keep it clean for future generations to enjoy, it is important that we teach our children the importance of recycling while setting a good example as a family. Your Local Kids has five helpful and simple tips to help kids understand how valuable recycling is, and how to get started.
Discuss the Benefits of Recycling
The best way to get your family interested in recycling is to make them aware of its importance. Introduce the 3 R's to them (reduce, reuse, and recycle) and brainstorm some examples of how to do each. It may help to gather various materials, such as Styrofoam, paper, and plastic and explain how long each one takes to break down. Take a walk around a park or a beach to point out any litter you come across, while speaking about its impact on the environment and the animals that live there. Bring gloves to help clean up any garbage you find.
Identify what can be Recycled
In order to start effectively recycling, it's important to brush up on what can be recycled, as well as the appropriate methods to do so. Some materials, such as paper, are pretty straightforward, while substances like plastic can be a bit more difficult. The Society of the Plastics Industry (SPI) uses a numbering system to make it easier to identify each type of plastic, which you can read more about here. Contact your local recycling facility to inquire on which numbers are accepted for pick-up in your area; and always check the number before assuming.
Develop a Sorting System
Recycling will be easier for each member of your family if there is a sorting system in place. Designate a separate bucket or pail for paper, plastic, glass, and metals. If your town permits, some materials can be combined, so always be sure to ask. Allow younger children to draw pictures or create labels to identify each container. Remember to thoroughly rinse out any used containers before placing them in the pail.
Start Composting at Home
If yard space permits, start a small compost heap at home. Section off a small section of land or use a bin with the bottom cut out. You can compost leaves or grass clippings, vegetable or fruit peels, eggshells and table scraps. When adding waste to your compost heap, cover each layer with soil and assure it is kept moist. Use a breathable cover made of a mesh to keep out pests. When your compost heap breaks down, you can use it as fertilizer or mulch to help plants grow.
Reuse when Possible
Encourage your family to get into the habit of asking how an item can be repurposed before tossing it out. Allow your children to be imaginative and offer suggestions when possible. There are many books available at the library that offer great craft ideas using recycled materials. Even something as simple as using a refillable water bottle over a store-bought one makes a huge difference.
These five simple steps are a great place to start recycling and can turn into life-long habits when practiced regularly.