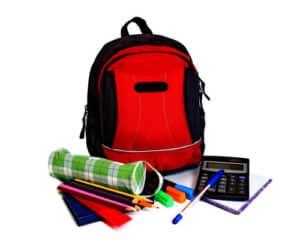 Believe it or not, it is already almost time for the kids to go back to school! Like many Long Island parents, you're probably wondering about the best ways to prepare them for their first day back. Not to worry, Your Local Kids has five great tips to get ready for school, and all of the parent resources your family will need in order to have a successful year.
The most simple way to get your children all set for school is to assure that they are ready to go long before the day comes. This means that you should have all of their supplies purchased, appropriately labeled, and packed. Make sure that any necessary reports or projects that were intended for the summer are completed and reviewed with your child. It will help to go over some practice material to prepare them academically as well.
Many families become much more relaxed over summer vacation, and may not adhere to as regular a schedule as they normally would during the school year. Establishing a regular routine before your child returns to school is important in order to assure that they will be well rested and prepared once the time comes. You will want to make sure that the routine includes a shower, early bedtime, and a healthy breakfast in the morning. Allow room for the addition of homework, chores, and any extracurricular activities once school begins. Begin following this routine a couple of weeks prior to the start of school if possible; and do your best to keep each activity on a regular basis.
Whether your child is a brand new kindergartener or of high-school age, it is completely natural for them to have some anxieties and concerns regarding the upcoming school year. Without being forceful, open a dialogue with them to assure that you are available for anything under the sun they wish to discuss. Don't be afraid to ask questions or offer help with any subjects they may have struggled with in the past.
Tip #4: Encourage Social Activities
The best way to ease any apprehension your child may have about going back to school is to allow them to discuss it while interacting with their peers. If possible, arrange play dates with friends your kids may have lost touch with over the summer, or introduce new classmates they can become acquainted with before school starts.
The most important way you can support your child in any aspect is by listening to them. If possible, get to know their teachers, class parents or bus drivers early on in the year. Ask how you can help your child to succeed, and do your best to serve as a resource. If you notice your child is struggling early on in the school year, use our Education and Enrichment guide to find the best services like after school programs and tutor programs available to ensure that they excel.
 Liked this article? Checkout our Archives for more.