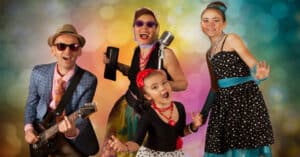 Living on Long Island, all children know that when it begins to snow, it's also time to play! As parents, we understand how much fun a snow day can be for kids, but also how quickly boredom can ensue once they're stuck indoors. Here are five great suggestions for indoor activities you can try with your family this weekend.
In today's age of technology, making a good, old-fashioned home movie no longer requires a video camera. If you have a smartphone, digital camera, or tablet handy, make sure it's charged and get filming! If you aren't looking to film any event in particular, take turns with each family member to narrate and film everyday family life as a documentary. Although it may seem like it's nothing special today, years down the line, you and your kids will appreciate these memories.
Sewing or knitting kits have recently gained popularity amongst school-aged children, and there's no denying that these are very valuable skills they can carry throughout life. However, you don't need a sewing kit in order to get started – start out easy with sewing a couple of patterns or an outline. Knitting may require a bit more patience, but there are plenty of free patterns and instruction materials available online. Do your research and learn together!
Building a fort together with your child is the ultimate indoor activity for when it's chilly out! Gather some pillows and blankets and start constructing the perfect hide out for your little ones. For bigger kids, it can be fun to challenge them to a fort-building contest. See who can build the biggest, longest-lasting or most awesome structure, and then spend some time hanging out inside of it!
With a bit of creativity and a whole lot of silliness, your family could be the next Partridge Family! Have each family member create an instrument or use any you may already have at home. Together, work on creating a song. Afterwards, rotate instruments and let everyone have a chance. Record your finished track, and be sure to play it at the next family gathering!
Creating a collage is an easy craft that everyone can do. Gather old magazines, circulars from local stores, and newspapers and spread them across your workspace. Every family member should be given a poster board or large paper to decorate. Have everyone make a collage that best represents themselves and their personal interests by cutting and gluing words, pictures, and designs. Once they're all complete, you'll have artwork to represent each member of your family.
For more indoor activities that your family can enjoy outside the home, be sure to check our listing of open play on Long Island.