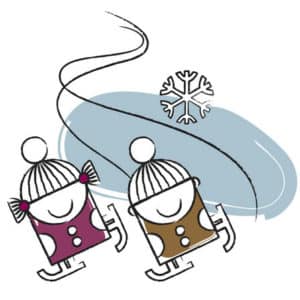 As Long Island parents, we want for our children to be healthy and happy. One of the best ways to do that is to stay active as a family. Why not make it one of your New Year's Resolutions to stay active throughout 2016? Here are five fantastic ways to stay active this year, even in the wintertime!
Even though Long Island winters can be very cold, it's still important to get some fresh air and sunshine. Bundle up and go for a walk around the neighborhood or spend some time at a local park. If you find that the playground is less crowded, spend some time with your kids on the swing set or jungle gym – you're never too old to play! If you're up for adventuring, explore one of Nassau or Suffolk County's many parks or beaches and go for a stroll or hike with the entire family. If you're staying home, why not have a race in your back yard? On snowy days, be sure to get outside and build a snowman or go for a sleigh ride!
Even though it's January, it's a wonderful time for a swim! Perform a quick Internet search for a local facility in your area or ask other parents in your area. Youth centers, gyms, schools, and private pools occasionally offer public sessions indoors in a heated pool. The winter months also offer an excellent opportunity to enroll children in lessons, and can help assure that they'll be experienced by the time summer rolls back around.
There are plenty of things to do indoors on Long Island! Take your family ice-skating or go indoor rock climbing. Ask a local youth center, school, or house of worship for recommendations on winter league activities. Basketball, aerobics, and dance are just a couple of suggestions. Be sure to check out our open play guide to see which facilities near you offer walk-in hours or discounted days.
Why not try renting a workout DVD or video game from the library? There's a wide selection to choose from for all ages, experience levels, and interests. Choose one that works for both you and your children and you're sure to have a blast, get a good workout, and most likely share a couple of laughs along the way as you figure the routine out together.
Look for Free or Specialty Classes
Many libraries, local gyms, youth centers, and schools offer free or low-cost classes catered to different age groups and fitness levels, and it doesn't hurt to ask! Even if no specific classes are being offered, they may be able to guide you in a good direction.
For more great activities, suggestions, and creative ways to spend time with your children, stay up to date with our blog and family event calendar.