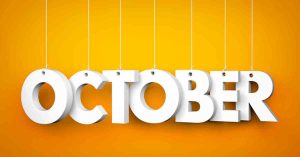 Things to do on Long Island in October
You can make the argument that October is the best month of the year for family outings on and things to do on Long Island. Autumn will be in full swing and while it will be cooler, it won't be too cold for outdoor events with fall foliage providing a beautiful backdrop. It's also the month of ghouls and ghosts and lots of treats as kids and more than a few "bigger kids" celebrate Halloween. Your Local Kids is your source for everything fun on Long Island. Here's our list of the top family events in the area for October.
Animated Story Featuring Otto the Ghost
Dates: 10/1-10/31
Location: Hicks Nurseries, 100 Jericho Turnpike in Westbury
This animated feature titled, "Otto's Green Halloween" runs from 8 a.m. to 6 p.m. daily at the nursery. Admission is free, but donations of any non-perishable food items for Long Island Cares are greatly appreciated.
Dates:  Sat. 10/1, Sun. 10/2, Sat. 10/8, Sun. 10/9, Mon. 10/10, Sat. 10/15, Sun. 10/16, Sat. 10/22, Sun. 10/23, Sat. 10/29, Sun. 10/30.
Location: Schmitt Family Farm on Bagatelle, 6 Bagatelle Road, in Dix Hills
A great way to get fresh air and enjoy the season. There's pumpkin picking and hayrides as well as an animal train. Your kids can burn off energy in a bouncy house, a fire truck slide or Schmitt's spooky haunted maze. You can buy fresh baked pies, apple cider and candy apples.
Dates: Sat. 10/1 – Sun. 10/2
Location: NY Hall of Science, 47-01 111th Street in Queens
Billed as the "Greatest Show (and Tell) on Earth" this festival celebrates all kinds of invention, creativity and resourcefulness. It's a family friendly event that gathers tech enthusiasts, crafters, hobbyists, engineers, artists and students to show off their work.
Dates: Sat. 10/1 – Sun. 10/2
Location: Suffolk County Farm and Education Center, 350 Yaphank Avenue, in Yaphank
Kids can pick their pumpkins and decorate them at this weekend festival. There will be several craft and food vendors on hand as well as family games, pony rides, wagon rides, farm animals, hands on science exhibits and a bounce village. The festival features live bands and children's entertainment.
Dates:  Sat. 10/1, Sat. 10/8, Sat. 10/15, Sat. 10/22, Sun. 10/23, Sat. 10/29
Location: Theater Three, 412 Main Street in Port Jefferson
A performance of this kid friendly musical show that runs for about an hour. A fairy tells this seasonal tale of a gnome, a witch, and a ghost who join forces to save a magic pumpkin patch.
Giant Pumpkin and Fall Harvest Competition
Date: Sun. 10/2
Location: Hicks Nurseries, 100 Jericho Turnpike in Westbury
Pumpkins and other vegetables of all sizes will compete in various competitions in this free event. There will be three prizes for the heaviest pumpkin. You can participate in contests with prizes for growing giant vegetables like squash and cucumbers or the largest sunflower. Even if you don't have a Frankenstein-sized vegetable, judges will select the most creative decoration of one or a group. They'll also select the best Fall bouquet displayed in a vase.
Rise of the Jack O'Lanterns
Dates: 10/7 – 10/30
Location: Old Westbury Gardens, 71 Old Westbury Road in Old Westbury
You've never seen a pumpkin display quite like this. Organizers are planning to carve and light 5,000 real pumpkins each weekend. Artists spend 10 to 15 hours working on each jack o' lantern which features favorites like life-size dinosaurs, dragons and animals, plus characters from popular movies.
Not so Scary Kids Adventure
Dates: Sat. 10/8, Sun. 10/9, Sat. 10/15, Sun. 10/16, Sat. 10/22, Sun. 10/23, Sat. 10/29, Sun. 10/30.
Location: Gateway Playhouse, 215 South Country Road, in Bellport.
This is a milder version of Gateway's regular haunted house. Tickets are $10 and includes a guided haunted house walk-thru, face painting, balloon creations, a hay bale maze and a pumpkin bouncer.
Children's Workshop: Create a House for Otto the Ghost
Dates: Tue. 10/11. Wed. 10/12, Thu. 10/13
Location:  Hicks Nurseries, 100 Jericho Turnpike in Westbury
Otto the Ghost has been bringing holiday fun to Hicks Nurseries throughout October and your child can join in by building a house made of candy for Otto. Reservations are required. They'll supply the candy and icing, you supply the creativity.
The 33rd Annual Oyster Festival
Dates: Sat 10/15 – Sun 10/16
Location: Theodore Roosevelt Memorial Park, West End Avenue in Oyster Bay
More than 200,000 people are expected at this waterfront festival that features, midway rides, live entertainment and more food than you could ever finish in a weekend. You can explore tall ships, enter an oyster shucking contest and visit the food court where all profits go to charity.
Israeli Fun in the Sukkah
Date: Sun. 10/16
Location:  Camp Jacobson, 340 Wheatley Road in Old Westbury
Celebrate the beginning of Sukkoth as you make pita and decorations at the Old Westbury Campus of the Sid Jacobson JCC.
Spooktacular Lanyard/Craft Project
Dates: Mon. 10/17 and Mon. 10/24
Location: The Lanyard Ladies, 464 Jericho Turnpike in Mineola
For children ages 6 to 13, join the lanyard ladies in this Halloween themed lanyard craft project. The one-hour program costs $15.
Pizza (Bagels) in the Hut
Date: Fri. 10/21
Location: 300 Forest Drive in Greenvale
Families can celebrate Shabbat and Sukkoth at the Sid Jacobson JCC in Greenvale. Children from birth to 5 years and their family members can shake a lulav, sing songs and eat in the Sukkah.
Walking Dead Paint Night for Paint Night for Parents Night Out
Date: Sat. 10/22
Location: Key to My Art, 10 West Oak Street in Amityville
On the eve of the season premiere of "The Walking Dead," fans of the show can connect with each other before learning who Negan's bat connected with. Key to My Art will present a Walking Dead themed canvas class. The $25 fee includes all supplies.
Date: Sat. 10/22
Location: Quogue Wildlife Refuge, 3 Old Country Road in Quogue
The refuge trail will be haunted as you walk in the dark and encounter ghouls and goblins! Reservations are required for these 40 minute walks. Earlier walks book up first, so reserve early!
Dates: Wed. 10/26, Sun. 10/30
Location: Wood Kingdom West, 111 Milbar Boulevard in Farmingdale
This party is for toddlers 4 and Under. Children will be served pizza and juice and there will be 90 minutes of free play. Reservations must be made and payment is due at the time of booking.
Haunted Hangars Museum Sleepover
Dates: Fri. 10/28, Sat. 10/29
Location: Cradle of Aviation Museum, Charles Lindbergh Blvd in Garden City
Kids 5 through can tour the museum's galleries by flashlight, watch a film in the Dome theater and take part in creepy Halloween themed science activities. Bring your costume and a sleeping bag. Pizza, a bedtime snack and a light breakfast will be served. Cost is $50 for members, $65 for non members.
Bats Barnacles & Broomsticks Halloween Party
Date: Sat. 10/29
Location: Long Island Aquarium and Exhibition Center, 431 East Main Street in Riverhead
Children 12 and under in costume will be admitted at half price per paying adult. There will be safe trick or treating throughout the aquarium, a haunted house, author readings, face painting and a costume parade for penguins!
Date: Sat. 10/29
Location: Suffolk County Farm & Education Center, 350 Yaphank Avenue in Yaphank
Who needs a witch on a broomstick when you can fling large orange pumpkins into the sky? Suffolk County Farm and Education Center hosts this annual championship pumpkin catapult contests where students and adults design, build and operate their own mechanical devices. Admission is by donation; it costs $50 to enter a youth team into the competition.
Dates: Sat. 10/29, Sun. 10/30
Location: Ivy League School, 211 Brookside Drive in Smithtown
There will be hayrides, a rock wall, face painting, pony rides and sky bounce inflatables this event. A DJ will provide entertainment.
6th Annual Fall Harvest Festival
Date: Sat. 10/29
Location: Good Shepherd Lutheran Church, 99 Central Park Road in Plainview
The festival will feature pony rides, a children's costume parade, a bounce house face painting and pumpkin decorating. There will also be a farmer's market, a bake sale, basket raffles, a beer tent and a silent auction.
Date: Sat. 10/29
Location: Smith Haven Mall Center Court, 313 Smith Haven Mall in Lake Grove
Kids who come to this free event will receive goodie bags with novelties and toys and be able to decorate a pumpkin or take part in other crafts. Free food samples and child ID kits will be given out.
Date: Sun. 10/30
Locations: Seriously Spoiled, 240 East Main Street in Patchogue; 707 Old Country Road in Dix Hills; and 75-24 Metropolitan Avenue in Queens
A great way to pamper young witches and princesses! Guests will receive Spooktacular cider upon arrival and receive a Halloween-themed hairstyle to match your costume, a magical makeup application and a moonlit manicure with nail art. It costs $34.95 per guest.
Date: Sun. 10/30
Location: Plasterkraze, 1310 Middle Country Road in Selden
Plaster painting party with pizza! There will also drinks, decorating, goody bags and a costume parade. Space is limited, please RSVP in advance.
Halloween Teen Paint Night
Date: Sun. 10/30
Location: Key to My Art, 10 West Oak Street in Amityville
Teens from 12 to 18 can make a Halloween canvas painting. The $25 fee includes canvas, paint, supplies and a light snack.
Date: Mon. 10/31
Location: Cup o' Fun Café, 6 Rockaway Avenue in Valley Stream
The event will include a costume contest, trick or treating, gifts and surprise character guests. Admission is $15 per child.
Trick or Treat on the Farm
Dates, Mon. 10/31, Tue. 11/1, Wed. 11/2, Thu. 11/3 and Sat. 11/5
Location: Suffolk County Farm & Education Center, 350 Yaphank Avenue in Yaphank
This program is part of the center's learn and play early childhood programs. Kids will learn about farming through hands-on-activities, stories, songs, crafts. Classes meet in different age groups at different times from ages 12 months to 5 years-old and pre-registration is required.