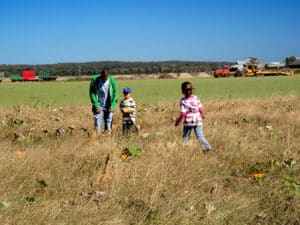 The leaves are changing, the air is cooler, and autumn has arrived. If you have kids at home, chances are that they are looking forward to all of the festivities of fall. If you're wondering where to find the best places to take your family pumpkin picking on Long Island, your friends at Your Local Kids have a list of some great farms to visit in Nassau County and Suffolk County.
Andrew's Family Farm: Located in Wading River. Pumpkin picking daily, 9am-6pm.
Benner's Farm: Located in East Setauket. Offers Pumpkin Picking and Hayrides. Open daily.
Borella's Farm Stand: Located in Saint James. Pumpkin picking, along with music, food, and a corn maze.
Brightwaters Farm: Located in Bayshore. Pumpkin Picking, Paid admission includes hayrides, a playground, activities, and face painting.
Colonial Springs Farm: Located in Wheatley Heights. Pumpkin Picking and more. (631) 643-4829.
Corwin Farms: Located in Middle Island. Pumpkin picking, hayrides.
Dee's Nursery: Located in Oceanside. Offers face painting, a petting zoo, and pumpkin picking every weekend in October.
Elwood Pumpkin Farm: Located in Huntington. Allows you to pick a pumpkin off the vine.
Fairview Farm: Located in Bridgehampton. Open Thursday through Sunday. Grows various colored pumpkins on-site for picking.
Fink's Country Farm: Located in Manorville. Boasts hayrides, a corn maze, pumpkin picking, slides, and much more. Handicapped-accessible, Open daily.
F&W Schmitt's Farm: Located in Melville. Pumpkin picking, corn mazes, inflatables, and haunted houses for all ages.
Harbes Family Farm: 3 Locations: Mattituck, Jamesport, and Riverhead. Pumpkin picking offered at each. Also hayrides, corn mazes, and more.
Organics Today: Located in East Islip. Open daily until Halloween. Features pumpkin picking, tractor-pulled hayrides and more.
Stakey's Pumpkin Farm: Located in Aquebogue. Pick your own pumpkins right off of the vine.
White Post Farms: Located in Melville. Open 7 days a week. Hayrides, pumpkin picking, children shows.
Wickham's Fruit Farm: Located in Cutchogue. Pick your own pumpkins, all fruit grown on site.
Windy Acres Farm: Located in Calverton. Open 7 days a week. Pumpkin picking and horse-drawn hayrides. (631) 727-4554.
When planning your autumn outing, be sure to call in advance to confirm hours of operation and pricing. It may be a good idea to bring along a wagon for little ones or to transport your pumpkins. Happy picking!
Liked this article? Checkout our Archives for more.