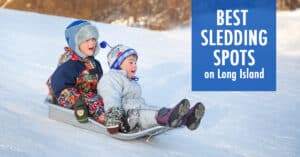 It may very well be the best way for a kid to celebrate a snow day. There's nothing more fun and memorable than sledding down a snowy hill on a perfect winter day. And as everyone knows, it's very important to find that perfect sledding hill. Your Local Kids has got you covered. We want to tell you about some of the best sledding spots on Long Island so you can bundle up, pick out a sled, go outside and get to the top of the hill. Look out below!
Bethpage State Park, 99 Quaker Meeting House Road, Farmingdale, NY 11735, (516) 249-0701
During the warmer months, Bethpage State Park is known for it's world famous golf courses which hosted the the 2002 and 2009 U.S. Open Championships. When snow falls park officials are known to allow sledding on some of the courses' steep hills. Please note that only steerable sleds are allowed on park grounds, not inflatables. Please call ahead.
Eisenhower Park, 1899 Hempstead Turnpike, Westbury, NY 11590, (516) 572-0348
When it snows, park officials open "Sled Hill" a family-friendly slope with a gentle grade that's ideal for young children. You can find it by Parking Field #1 located near where the park holds its annual summer "Safety Town" program.
Hoyt Farm Nature Preserve, 200 New Highway, Commack, NY 11725, (631) 543-7804
This is one of the most popular sledding spots in Suffolk County. The nature preserve is open 365 days a year to Smithtown residents. Non-residents will be charged a $12 parking fee. According to Cormack Patch, the 133-acre preserve also holds winter programs on tapping maple trees to make syrup.
Cedar Creek Park, 3340 Merrick Road, Seaford, NY 11783, (516) 571-7470
Located on the Wantagh-Seaford border, park officials open their very popular sled hills in January and February, weather permitting.  The 259-acre park which opened in 1975 also has several walking paths and a dog run.
Islip Grange Park, 10 Broadway Avenue, Sayville, NY 11782, (631) 563-0186
This 12-acre site which is home to a 19th century historical complex, including a church and a windmill is an idyllic setting for sledding fun. It's also been a choice for family sledding for years. This is a prime location for kids of all ages.
Christopher Morley Park, 500 Searingtown Road, Roslyn, NY 11576, (516) 571-8113
Christopher Morley Park is named after the early 20th Century writer and poet most famous for the novel "Kitty Foyle." It's a prime location for winter activity with cross country ski trails and an ice rink as well as the sled hill.
Sledding is a great way for children to get fresh air and bond with their family and friends. And it's a whole lot of fun. If you're looking to find winter activities for your family or things to do all year round, remember to check Your Local Kids', Family Events Calendar.