Long Island Birthday Party Clowns from Your Local Kids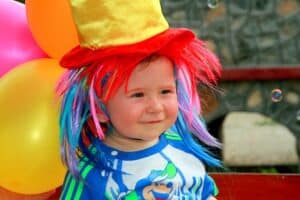 There are so many elements that go into planning a birthday on Long Island including hiring entertainment. There's nothing more stressful than having to figure out how to keep the birthday kid and all of their friends entertained while also prepping and serving the food, mingling with parents and cleaning! That's why many parents chose to hire a birthday party clown that will keep the kids occupied while they continue hosting duties. Your Local Kids has put together a list of local companies that offer Birthday Party Clowns in Nassau County and Birthday Party Clowns in Suffolk County  that are known to provide some of the most fun birthday party clowns.
A good birthday party clown will be able to entertain kids in a wide variety of ages from newborns to pre-teens. Clowns usually have a variety of activities to do with the kids including playing interactive games like TV trivia, conga line or limbo, as well as singing and dancing to songs such as the hokey pokey and chicken dance. Some clown companies on Long Island also offer interactive puppet shows perfect for little ones.
For older kids, clowns usually participate in popular dances like the Cha-Cha Slide or Cotton Eye Joe. Also, for older kids, a lot of clowns offer hula-hoops and hold contests as well as play more difficult games like freeze dance. Some clowns are even skilled in face painting and balloon twisting providing your guests with something they can take home as a keepsake.
As always, check to see what equipment the clown will be bringing with them. If your party is outside, there's a chance you might need to have electricity available, especially if your clown is bringing Cotton Candy!
As parents ourselves, we at Your Local Kids know how important it is to find reliable and trustworthy party entertainment on Long Island. Which is why we built an easy to use website where you can find the best kids birthday party clowns in Nassau County or Suffolk County for your next birthday celebration!