Long Island Bounce House Rentals from Your Local Kids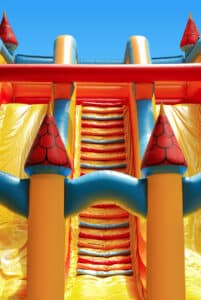 Throwing a birthday party for your child every single year can be a daunting task because there are so many different elements that need planning. One of the hardest decisions is what to have as entertainment. A lot of parents chose to rent a bounce houses because not only are they fun, but they tend to keep the kids entertained for hours so you can focus on other aspects of hosting a party. That's why Your Local Kids has put together a list of Long Island companies that offer Bounce House Rentals in Nassau County and Bounce House Rentals in Suffolk County.
If you plan on having an outdoor birthday party, a bounce house in a great choice in entertainment because it's suitable for all ages. They are great for little kids because it keeps them active and eventually tires them out, leaving you free to deal with other issues that arise while hosting a party. Bounce houses that come with a slide (also known as combo units) are great for older kids especially of the amount of exercise they get trying to climb up the slide.
Bounce houses come in so many varieties so if you are having a themed birthday, there's a good chance that you can find one that matches! Popular bounce house themes include jungle, under the sea, animals, western, circus, carnival and even licensed characters!
When choosing a bounce house rental company make sure they are fully licensed and insured. Also look for a company that offers an attendant to make sure that all the children are safe. If they do not, have a parent who is dedicated to monitoring the bounce house. Here is a guide on some more bounce house safety tips.
For many years, Your Local Kids has helped parents all over Long Island find the best party rentals so they can throw a memorable birthday party. With an easy to use website that features the best parent resources, finding and renting a bounce house for your next birthday celebration whether in Nassau County or Suffolk County has never been easier.