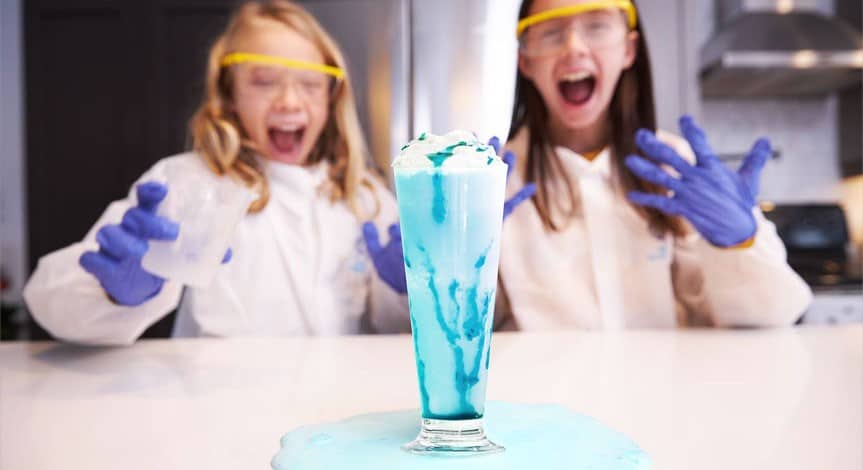 Now that kids are home from school, Jessica Alfieri from Mad Science of Long Island has provided some hands-on DIY STEM experiments to help encourage science learning at-home!  Parents can feel some much needed relief with these guilt-free activities and kids can enjoy the fun and learning at-home while still maintaining a healthy-level of curiosity and education.
In the DIY STEM experiments below, kids will have a chance to dive deep and explore all that science has to offer from the comfort of their home. Just because class isn't in session doesn't mean the learning has to stop! The best part is, most of the experiments listed below can be conducted with items lying around the house! By using average household items, kids can learn about air-pressure, sound waves and more!
Kids Learn about Air Pressure, Sound Waves and More with these Experiments!
1.) Try this Ghost Bubble Experiment at Home!
Learn how to make foggy, ghost bubbles using household items like corn syrup and detergent!
2.) Try this Copycat Solution Experiment at Home!
Learn how to make copies of your drawing using household items like detergent!
3.) Try this Bobble Ball Experiment at Home!
Learn how to change a balloon's center of gravity!
4.) Try this Musical Straw Experiment at Home!
Learn about sound waves and how to make different sounds using a straw!
5.) Try this Balloon Bond Experiment at Home!
Learn about air-pressure using a balloon!
Check out Mad Science's page for even more fun and educational STEM activities!
ABOUT MAD SCIENCE
With more than 150 locations all around the globe and 35 years of experience, Mad Science is
the world's leading science enrichment provider for children ages 3-12. Mad Science delivers
unique, hands-on science experiences through after-school programs, birthday parties,
workshops, special events, and summer camps. With over 200 hours of science programs
developed by their R&D team, they teach kids about a wide range of STEM topics like biology physics, chemistry, and engineering. Every year, Mad Science introduces millions of children to a world of discovery while sparking their imagination and curiosity.