Join us and share with your friends & family! It is NOT a typical "senior fair" This is a fabulous event for Baby Boomers and seniors.
Join us at the 14th annual Over 50 Fair, a celebration of life on Long Island for adults age 50+. Part health and wellness fair, part conference, and part activities and lifestyle expo with over 80 exhibitors on hand.
Spend the day enjoying over 25 classes. Enjoy a dance demonstration. Learn everything you need to know about Medicare. Hear about ghost hunting. Have fun at a comedy show. Become educated about hypnosis and acupuncture.
Meet that special someone in our Singles Lounge, and find out how to improve your dating and sex life over age 50. Enjoy our performers in our acoustic music showcase. Have fun playing "funny money" blackjack or taking photos in our photo booth.
You don't have to be Over 50 to enjoy the Over 50 Fair! It's OVERflowing with opportunities!
For more info and to buy tickets click here.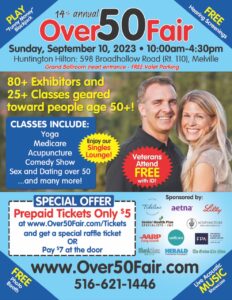 |||::
598 Broadhollow Road, Melville, NY 11747