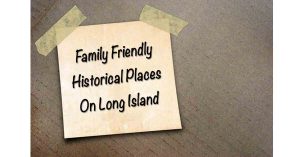 There are so many places to go and so many things to do on Long Island.  What some people may not realize is that there is a lot of history on Long Island.  We have compiled a short list of must see historical places for families to visit on Long Island.
Old Westbury Gardens
Old Westbury Gardens is on the Directory List of National Registered Historic Places.  It is the former home of John F. Phipps and his wife and four children.  The home is a Charles II style mansion tucked away on over 200 acres of formal gardens, woodlands, ponds and lakes.  The Gardens presently welcome visitors of all ages for tours, school visits, children's events and programs.  The Gardens is also the host of many events such as classic car shows, gardening classes, book signings, concerts and more.
Planting Fields Arboretum
Planting Fields Arboretum is a historic site in Oyster Bay.  It is a former Gold Coast Estate and it is the home to over 400 acres of beautiful gardens, greenhouses, woodland paths, and unique plant collections.  In order to call a site an historic one, some of the original structure has to remain.  The original 65 room Tudor Revival Mansion, built in 1915, still exists, and is open for tours during the spring through the fall.  The Arboretum offers educational programs for both adults and children.  For additional information on the programs, parking and admission please visit the website.
Long Island Game Farm
The Long Island Game Farm Wild Life Park and Children's Zoo is located in Manorville.  Children and adults alike can learn about different wildlife and animals at the zoo.  The site is fully developed with a discovery center, petting zoo and summer shows.  Ranger Eric, a Wildlife Biologist, presents the summer shows, teaching about pets, wildlife and nature.  To see the summer show schedule, please visit the website.  The zoo can also be the host site for your next birthday party or school field trip!
Vanderbilt Museum and Planetarium
The Vanderbilt Museum and Planetarium grounds have a number of different things for you and your family to explore.  The site offers tours of the Vanderbilt Mansion.  There is the Museum and the Hall of Fishes Marine Museum and other exhibits to see.  The Planetarium which reopened in 2013 offers educational and fun programs for adults and children.  Some of shows offered include laser light shows, sky shows and recreated celestial event shows.  For schedules and times and any additional information, please visit the website.
Long Island is a land of history and discovery.  We are constantly looking for new ideas to share with you. As always we look to keep you and your families active in our communities and enjoying all of the things to do that Long Island has to offer.  Please continue to visit our blog for the latest on events in the local area.