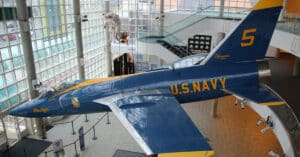 There are a lot of museums on Long Island that understand the importance of enriching the lives of our children by exposing them to art, history and different cultures. Your Local Kids has compiled a comprehensive list of family-friendly museums. Please note that some museums are seasonal or have non-traditional hours, so it is suggested that you check the museum's website or give them a call before your visit.
African American Museum of Nassau County – 110 N. Franklin St., Hempstead, NY, (516) 572-0730.
The African American Museum of Nassau County is the only African American museum on Long Island.  It is actually one of only two in the northeast. According to the website, "The mission of the African American Museum of Nassau County is to educate, promote understanding and appreciation of African American culture, art and tradition through education, interpretation, exhibitions, collections and programs for the enrichment of the public; with an emphasis on Long Island. The museum's vision is to continue to be an outstanding regional resource for African American historical information and preservation."
"The Alan & Helene Rosenberg Jewish Discovery Museum is a hands-on museum where children & their families can experience the joy & fun of learning about Jewish life, history, values, traditions & heroes, as well as Israel & the Hebrew language. The interactive displays are designed to transform visitors into participants, offering adults & children a unique opportunity to discover the wonders of their Jewish heritage."
Babylon Village Historical Society Museum – 117 West Main Street, Babylon, NY, (631) 669-1756.
This museum depicts local life from the early 1800's through World War II.
The nature museum is in the Smith Family home built in 1751. The structure has been recently renovated and showcases natural history exhibits including a Great Blue Heron, Red Fox, Flying Squirrel and a River Otter.
The mission of the Children's Museum of the East End (CMEE) is "to spark imagination and foster learning for children of all backgrounds and abilities and to build strong connections within the East End community by providing playful experiences."
The Whaling Museum and Education Center – 301 Main St. (Rte. 25A), Cold Spring Harbor, NY (631) 367-3418.
For the water-loving child in your family, this museum offers a great opportunity to learn about whales and our relationship to the ocean. The staff is wonderful with children hosting about 12,000 school kids per year. The museum's mission is "to explore the ever-changing relationship between humans and whales through inquiry-based education and interpretation of artifacts that emphasize the cultural, scientific and environmental significance of Long Island and the Sea."
Do you have a budding pilot or astronaut?  The Cradle of Aviation Museum boasts many exciting exhibits, programs and even a planetarium sure to amaze families of all ages. The Junior Jet Club is a special area for children ages up to 6 years to explore, color, read a book etc.  As an added treat, you may want to include a visit to Nunley's Carousel. It is located in its own building adjacent to the museum on Museum Row.

The Marine Museum boasts three floors of historical artifacts.  Please visit the website for more information about this museum and others operated by the East Hampton Historical Society.
The Fire Island Lighthouse Preservation Society operates and maintains this historic site. The lighthouse tower has 182 steps and there are surrounding nature trails to explore so it is suggested that you wear flat, comfortable shoes for this historical visit.
Freeport Historical Museum – 350 S. Main St. Freeport, NY (516) 623-9632.
Operated by The Freeport Historical Society, this 4 story historic structure holds and displays artifacts significant to the history of Freeport.
Celebrating it's 50th anniversary in 2017, this museum is dedicated to the study of Long Island geology and archeology.
Hallockville Museum Farm – 6038 Sound Ave. Riverhead, NY (631) 298-5292.
Hallockville Museum Farm is a preserve that features historic farm-related buildings and artifacts.  There is livestock on a working farm.  The mission is to take visitors back to their agriculture roots. At the time this list was compiled the site was down. Yo can visit their Facebook page for more information: https://www.facebook.com/Hallockville/.
The Heckscher Museum of Art is dedicated to enriching the lives of local families. They offer many programs, events, and activities that focus on the education and development of children.
Hicksville Gregory Museum – 1 Heitz Place Hicksville, NY, (516) 822-7505.
In 1895 the museum was the Hicksville Town Hall and courthouse. The focus of the museum is earth science and houses extensive collections of fossils, minerals, historical artifacts, and butterflies.
The Horton Point Lighthouse is maintained by the Southold Historical Society. The lighthouse was originally authorized by George Washington in 1790 but was not actually built until 1857. The lighthouse was restored in 1990. Also in Southold and operated by the Southold Historical Society is the Maple Lane Museum Complex, home to 11 historic buildings open to the public.
This museum specializes in contemporary art. The New York Times has called the Museum the "best facility of its kind outside Manhattan." It hosts art classes, workshops, and tours for all ages.
LICM offers year-round, hands-on exhibits dedicated to kids. There is a theater, indoor and outdoor galleries and four learning studios. According to the site, "Long Island Children's Museum is a learning space devoted to the busy work of play."
"The museum is a Smithsonian affiliate, dedicated to American history and art with a Long Island connection." There are family and children programs. The campus consists of a history museum, gardens, carriage museum, art museum and many other historic structures.
At this museum, which includes a working boatyard, families learn about the rich maritime history of Long Island. Founded in 1966, there are many galleries and exhibits devoted to the Island's maritime history including boat building, shellfish harvesting, and shipwrecks.
Montauk Point Lighthouse – 2000 Montauk Hwy. Montauk, NY (631) 668-2544.
This lighthouse was the first in New York State and was commissioned by George Washington in 1792. The construction was completed in 1796. Among the historical documents, artifacts and photographs included for display are documents signed by George Washington and Thomas Jefferson.
Nassau County Museum of Art – 1 Museum Dr., off Northern Blvd. Roslyn Harbor, NY (516) 484-9337.
The museum, housed in a Gold Coast mansion, is ranked among the nation's largest, most important suburban art museums. The museum offers programs specifically designed for families, including hands-on art workshops.
The museum features law enforcement memorabilia from 1925 through present day. At the time of posting the website was not working.  Please call the number provided for details.
Housed in a former Carnegie library, the exhibits focus specifically on the history of Northport, Eatons Neck, Asharoken, East Northport and Fort Salonga.
Old Bethpage Village Restoration – 133 Round Swamp Rd. Old Bethpage, NY (516) 572-8400.
This living history museum takes you back in time to the 1800's. Costumed interpreters offer a unique way to interact with history. The property is 209 acres and represents a typical 1800's village community.
This east-end museum offers an array of family-friendly activities, including classes and workshops.
Polish American Museum – 16 Belleview Ave. Port Washington, NY (516) 883-6542.
Founded in 1977, this museum documents the history of Polish immigration and culture.
Railroad Museum of Long Island (Greenport) – 440 Fourth St., at the tracks, Greenport NY (631) 477-0439.
Railroad Museum of Long Island (Riverhead) – 416 Griffing Avenue, at the tracks, Riverhead, NY (631) 727-7920.
Both museums are great for learning about the history of our trains and railways. The admission fee includes a ride on their World's Fair miniature train and a guided tour of the Riverhead and Greenport site. Admission tickets are good for both the Riverhead and Greenport sites during the same year stamped on your ticket when purchased.
"The mission of Raynham Hall Museum is to enable visitors to the nearly 300-year-old Townsend family home in Oyster Bay to experience what it meant to be prominent merchants and heroic patriots, and to become engaged in the worlds of espionage, domestic life and the decorative arts."
This museum is housed in a preserved 18th-century plantation and home. Built in 1767, the building is one of the oldest homes to still stand on Long Island. Excavations are still being done to help us better understand the way of life and how the grounds were used. There are craft workshops, storytelling and a country fair held in the fall.
Sag Harbor Fire Department Museum – 46 Church St. Sag Harbor, NY (631) 725-0779.
Established in 1978, this two-story building houses decades of local firefighting history.
This museum is housed in a Greek Revival building which has been declared a National Treasure. The museum is dedicated to Sag Harbor's rich history as a prosperous whaling port housing the largest collection of whaling equipment in New York State.
National park with historic structures, museum, visitor center, bookstore and open space. This museum focuses on life in the early 20th century. This is the former home of President Theodore Roosevelt. Children were a treasure to the former president and he encouraged their education. He was even a guiding figure in the early years of the Boy Scouts. In memory of that spirit, the museum offers a Junior Ranger program.
Science Museum of Long Island – 1526 N. Plandome Rd. Manhasset, NY (516) 627-9400.
This is not a traditional museum with open exhibits. SMLI is a science activity center offering scheduled enrichment workshops for children on weekdays and during school vacations.
Southold Indian Museum – 1080 Main Bayview Rd. Southold, NY (631) 765-5577.
Native American historical exhibits and artifacts collection. The mission statement is, "Our Museum is dedicated to study and education surrounding archaeology and natural history. It is owned and operated by the Incorporated Long Island Chapter of the New York State Archaeological Association."
"The mission of the South Fork Natural History Museum & Nature Center – SoFo – is to stimulate interest in, advance knowledge of, and foster appreciation for the natural environment, with special emphasis on the unique natural history of Long Island's South Fork."
The museum and library hold collections and artifacts from Suffolk County and of Long Island mostly from the 19th century.
Swan River School House – 31 Roe Avenue, East Patchogue, NY, (631) 475-7871 or (631) 475-4645.
This is an original building from 1858 that is furnished with the original desks and benches, pot belly stove, large iron bell, plus other exhibits from the 1800's.
A 43-acre property that will take you back to the early 1920's.  The property houses the Vanderbilt mansion, a marine museum, gardens, an education center and even a planetarium.
The building is the restored farmhouse and birthplace of America's great poet, Walt Whitman. It was built around 1816 by Whitman's father. The mission statement is, "Walt Whitman Birthplace Association is Walt Whitman's voice today, celebrating the poet's vision of democracy, diversity, and creativity. Our programs and exhibits educate the public on Whitman's life and times, explore his contribution to our nation's rich cultural heritage, and inspire young poets and writers."
Wantagh Historical and Preservation Society and Museum – 1700 Wantagh Avenue Wantagh NY (516) 826-8767.
The museum consists of three buildings, The Station, The "Jamaica" Railroad Car and the Original Wantagh Post Office. The restored buildings represent life in Wantagh in the early 1900's.