Suffolk County Farms from Your Local Kids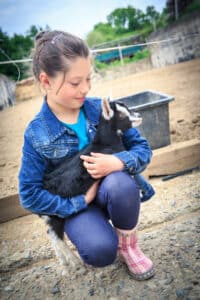 There are so many reasons to visit a farm with your family! Besides the fact that it's a lot of fun there's a bunch educational benefits such as sensory learning from all the different textures between animal fur and barrels of hay, vocabulary expansion as they learn about new plants and animals, and the appreciation of nature and healthy living as they learn about organic plants and farm raised animals. This is why, Your Local Kids has put together a list of the best farms in Suffolk County.
Our farms in Suffolk County have pumpkin patches, corn mazes, wagon rides, petting zoos, and crafts. They are the perfect place to spend an educational but also fun day with the entire family!
Other than family friendly businesses, Your Local Kids has been a go to resource for parents to help them find the best entertainment for birthday parties, the best tutors for academic advancement, specialty camps for a ton of different hobbies and interests as well as health care professionals who are recommended for the entire family!
For more information and to search through our entire directory of vendors click here.