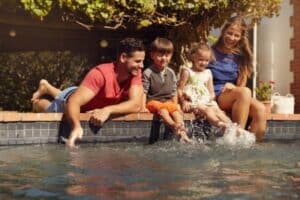 Summer is in full swing here on Long Island, and you may be looking for creative things to do with your kids to beat the heat and stay cool. Your Local Kids has some simple and fun DIY activities that are made for even the hottest days of the season.
Five Fun Ways to Beat the Heat
#1 – The Water Blob
A 'water blob' is a type of sensory mat made from thick plastic sheeting and water that is fun for all ages and very easy to assemble. Purchase a large plastic tarp from a local home improvement or craft store. Lay it out on a flat surface in your yard, and fold it in half. With assistance, carefully tape the three open edges of the tarp closed with heavy duct tape, leaving a hole to insert a garden hose. If you'd like, you can add glitter or food coloring inside of the hole at this time. Then fill it with water, remove the hose and seal the hole. Be careful not to overfill, as to create the "squishy" feel, and allow the children room to move around on the surface. Your water blob is now all ready for little hands and feet to explore!
#2 – Sponge Water Bombs
Although water balloons are traditionally a popular favorite among kids of all ages, water bombs are a great alternative and are easy to make, reusable and environmentally conscious. Cut a package of multi-colored sponges from the dollar store into vertical strips, and stack them in piles of four or five. Once you have ten or so strips in a pile, fashion them together using a hair band or alternate soft fastener. Make a water bomb for each child, or have older children create their own! Provide each child or "team" with a bucket of water, and they will enjoy dunking and tossing their new home-made water bombs.
#3 – The Bucket Game
A group activity, the bucket game is sure to delight both young and older children alike, and doesn't require many supplies at all! Fill two large buckets with water from the garden hose and place them parallel to begin two side-by-side lines. At the other side of the yard, place two empty buckets mirroring the ones you have filled. Divide the children into two equal teams, and hand the first child on each line a large sponge. At the count of three, have the first child on each line dunk the sponge into the water, running to the other side and squeezing it into the empty bucket. They then have to race back to the start, hand off the sponge to the next child in line and repeat until one of the two teams fills its empty bucket and is declared the winner!
#4 –Duck, Duck, Dunk
It's easy to put a summertime twist on the classic game of "Duck, Duck Goose" by simply adding a cup of water! The child who is "it" should be handed a plastic cup full of cold water and carry it around the circle as they choose the next friend to be picked. When he or she selects the next child to be "it," instead of saying "goose," he or she is to pour the water on them.
#5 – Summer Freeze Dance
For this game all you need is a sprinkler and some music! Set the sprinkler up in the yard and turn the radio on, encouraging the children to start dancing around the sprinkler. Turn the sprinkler on at random intervals. Each time the water is turned on, the kids have to stop dancing and freeze in place until it's turned off again. This is an exciting way for everyone to cool off, and also allows each child to be a winner.