By: Riesa Fischer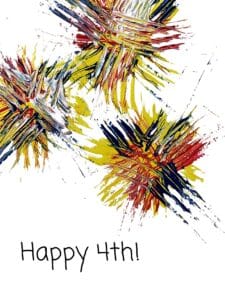 Looking for a fun art project to do with the kids? How about this very fun 4th of July Fireworks project!
Simple Art Supplies: Plastic Fork, Paper & Paint
All you need is a plastic fork, a piece of paper and some paint! You can use any type of paint you like – tempera, acrylic, washable – whatever you have at home. We used yellow, red, blue and white paint. You can use whatever colors your like!
How to Make Your Patriotic Art Project
What you'll want to do, is squirt the paint onto either a paper plate, or a plastic fast food container lid (that you won't be using for food again).
Have the kids drag the fork through the yellow paint, and then drag the fork on the paper, from a center point, out toward the edge of the paper. Do this while going all around that center point and then switch colors and repeat until you have all the colors you want in your fireworks display! Then repeat the entire process until your "sky" is filled with bursts of fireworks colors!
Simple, Fun Art Project Scales from Small to Large
This is an easy and fun project. You can use large or small paper. Your child can make cards for friends and family, or just something to hang on the fridge to celebrate the holiday!
About the author: Riesa Fischer is the owner of Key to My Art Studio in Amityville, NY – www.keytomyart.com