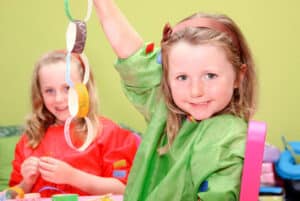 The holiday season is in full swing on Long Island, and there's no better way to get into the holiday spirit than to make fun holiday craft projects with your kids.
Crafting with your kids for the holidays is a great way to spend time with your children while starting some new family traditions.
There are many fun, DIY and kid-friendly holiday craft projects that parents and their children can easily make together. Your Local Kids has compiled some simple craft ideas, as well as a few tips to make crafting easy for parents and their kids.
There are also many places in Nassau County and Suffolk County that offer a variety of kids' activities such as holiday crafting, as well as offer the necessary supplies for at-home holiday crafting with the kids.
Parents can peruse Your Local Kids' Family Events Calendar for places to take their children to enjoy some holiday crafting in Nassau and Suffolk. Many local libraries also offer holiday crafting programs for kids that are free or inexpensive.
To get started with holiday crafts at home with your kids, choose a few crafts that your kids either might enjoy doing on their own with you and helping you create, depending on their age and interest.
Crafting could be as simple as holiday-themed coloring books and crayons, or as elaborate as holiday-themed arts-and-crafts projects or helping decorate seasonal cookies or cupcakes – all depending on the age and interest of your kids.
Kids can also help put together tins, baskets or decorated bags filled with their favorite holiday treats they helped bake as gifts, keeping in mind, of course, allergies the recipients might have.
Other ideas for holiday crafts could include:
Making cards using cotton balls for snowmen or Santa Claus' beard.
Using beads strung on pipe cleaners to create holiday ornaments or shapes such as candy canes or snowflakes.
Cutting a doily into a set of angel wings and a body topped with a picture of your child.
Tying strings of colorful cloth around a wire ring or pipe cleaner ring to make a wreath to hang on its own or on a tree as an ornament.
Using old bottle nipples, red paint, googly eyes and pipe cleaners to make Rudolph ornaments.
Using colored pipe cleaners or popsicle sticks and paint to put together a Christmas tree ornament or Jewish star, dreidel or menorah ornaments for Chanukah.
Stringing different colored and sized buttons together on thread or string or pipe cleaners to create ornaments in shapes like wreaths, reindeer, Santa Claus, dreidels or snowmen.
Making a menorah out of marshmallows with candy corn as the lights.
Using colored paper, markers and crayons to create homemade wrapping paper.
Making dreidels using toothpicks wrapped with color paper strips cut and glued into the graduated shape of a dreidel.
Decorating cone cups to create Santa Claus or holiday trees or even horns for New Year's Eve.
Creating little square purses with snap-closure flaps to hold Chanukah gelt out of felt that's hot-glued together and decorated with sequins.
Creating dancing menorahs, candles, dreidels and oil flasks using colorful card stock, pens, markers and crayons, a hole punch and paper fasteners to make the parts dance.
Making oversized Chanukah gelt for a scavenger hunt using cardboard covered in gold or silver foil and decorated with gold or silver puffy paint.
Making homemade gift tags by cutting holiday shapes out of heavy colored paper or oak tag and decorating with markers, little pom poms, glitter, etc., and attaching bakery string through a hole punched through each tag.
Cutting out paper snowflakes.
Making a Kwanzaa unity cup using a large stemmed glass and letting your kids paint it with red, green and black paint.
Using red, green and black construction paper to trace your kids' hands and cut those shapes out to turn them into a wreath or to cut into strips and connect them together to make a decorative garland for Kwanzaa;
Making different Chanukah symbols – dreidels, Jewish stars, gelt, candles, etc. – from Sculpey clay and hanging them from a mobile.
Filling up a few bottles with food coloring and sending the kids outside to create art in the snow.
Using ziti noodles decorated with red, green and black paint and strung on yarn, ribbon or shoelaces to create a Kwanzaa necklace.
Having your little ones make a hand print menorah by dipping each hand in paint, overlapping the thumbs for the center candle, then dabbing the top of each candle with yellow paint.
Making homemade holiday/winter-themed placemats.
Filling a decorated baby food jar with gelt and a dreidel to give as a Chanukah gift.
Turning toilet paper rolls into decorated Christmas carolers, snowmen, mosaic candles, a Kwanzaa candle or a menorah.
Turning a frozen juice container into Christmas or New Year's Eve noisemaker by filling it with white beans and popped popcorn and securing it with tape or glue gun.
Don't forget to add your own ideas for kid-friendly crafts in the comments section below.
Once you've picked out a craft project or two with your kids, be sure to clear a time and a safe area in your home that's dedicated to crafting.
Be sure you have the basic, necessary supplies on hand, such as scissors, glue, tape, colored paper, glitter, paint, markers, popsicle sticks, etc., as well as the necessary materials for your specific craft projects.
Go over crafting directions with kids and explain what they don't understand, and, of course, use your best judgment to decide what tools are age-appropriate, especially when it comes to using items like scissors or hot glue.
The crafts parents and kids put together can make great gifts for family, teachers and friends. Crafting can also teach kids about creativity, accomplishment, patience, attention and giving, as well as help them develop fine motor skills and eye-hand coordination.
Crafting together also creates lasting memories, so be sure to get into the holiday spirit by making a few fun, homemade crafts, cards, decorations and gifts this season!