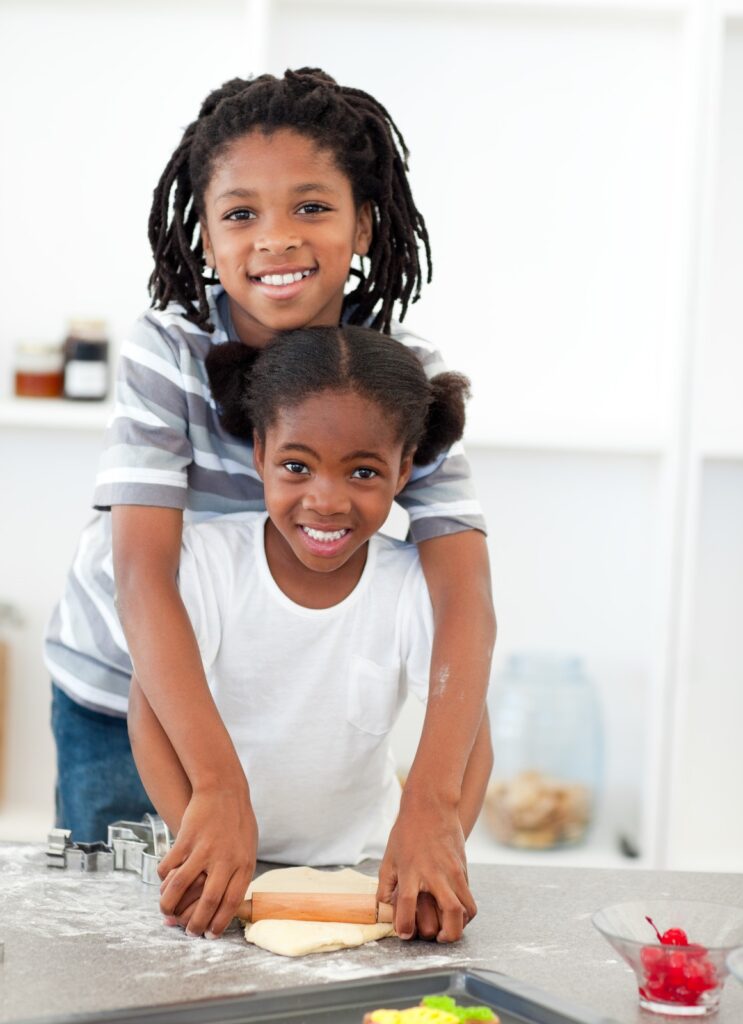 With fall here and the festive Holiday season around the corner, now is a great time to stay in and sharpen your and your whole family's culinary skills. Here are a few recipes that are fun and delicious for the whole family. Because sometimes, it's okay to play with your food.
Breakfast
Chocolate 'Acorn' Waffles
Things you will need:
Waffles (equal to the amount of people served)
Chocolate shell, chocolate fudge sauce or melted chocolate
Mini tootsie rolls
Sprinkles (fall colors are best)
Parchment paper
Homemade waffles work well for this recipe, but if you'd prefer a more quick and convenient alternative, toaster friendly waffles are great too.
Preparation
Heat/Cook the waffle and let cool on parchment paper for 2 minutes.
Dip the top portion of the waffle into chocolate and place back onto parchment paper.
Cut the tootsie roll in half lengthwise and place on top, in center, slightly sticking off of the waffle.
Decorate the chocolate area with sprinkles.
Serve and enjoy!
Carrot Cake Sausage Roll Ups
Things you will need:
Sliced bread (10)
Breakfast Sausage Links (10)
3 large eggs
1/2 cup of milk
Shredded carrots
1/3 cup Raisin (optional)
Cream cheese (3/4 cup)
1 tablespoon of equal parts cinnamon and sugar (1/2 tbsp of each)
3 tablespoons granulated sugar
1/2 teaspoon ground cinnamon
1 teaspoon vanilla extract
1 Tablespoon all-purpose flour
1 stick of butter
1/4 cup syrup
Preparation
In a bowl, mix the cream cheese with cinnamon sugar mixture, shredded carrots and raisins. Set it aside.
Cut the crusts off of the bread and use your hands or a rolling pin to flatten the large center piece.
Thinly spread the cream cheese and carrot mixture onto one side of the bread (too much will spill out while cooking). Set aside remaining mixture.
Place a sausage on the frosted side, at far edge of the bread and roll up.
Preheat pan on medium heat and grease with butter.
Add milk, eggs, cinnamon, sugar, vanilla and flour to a shallow bowl or deep dish.
Gently dip rolled sausages into the egg mixture and then place into pan.
Gently cook for a few minutes, turning carefully to brown each side.
Melt remaining butter and add to cream cheese mixture, add syrup. Stir until smooth.
Plate sausage rolls and drizzle with cream cheese sauce.
Enjoy!
Snacks
Autumn Fruit Salad
Things you will need:
Small leaf shaped cookie cutter(s)
1 Cantaloupe melon cleaned and cut into pieces large enough to shape with cookie cutter
2 Honey Crisp or Fuji apples -cored and diced
2 pears cored and diced
2 plums pitted and diced
10 figs diced
1/2 cup cranberry seeds
1/2 cup roasted unsalted shelled pumpkin or sunflower seeds
1 cup Pomegranate seeds
1 teaspoon lemon juice
2 tablespoons maple syrup
3 tablespoons honey
1/4 teaspoon of ground cinnamon
1/4 teaspoon of ground nutmeg
Preparation
Use the cookie cutter to shape melon into leaves and set aside
Combine all fruit in a large bowl
In a separate small bowl mix together syrup, honey, lemon juice, cinnamon, and nutmeg
Pour the honey mixture onto the salad and gently toss
Place melon leaves on top (sprinkle very lightly with cinnamon if desired)
Enjoy
Autumn Trail Mix
You will need:
A large bowl
1 cup mini peanut butter covered pretzels
1 cup bugle horns
1 cup honeycomb cereal
1 cup dried apple, pear or persimmon
1 bag of Sahale Snacks Pomegranate Vanilla Flavored Cashews
1/2 cup roasted, shelled pumpkin seeds
1/2 cup candy corn (pumpkin shaped ones add a nice touch)
1/2 cup craisins
1/2 cup peanut M&Ms
Preparation
In a large bowl, combine all ingredients and gently mix.
Enjoy
Lunch
Owl Rice Cakes
Things you will need:
Blueberries
Apples
Banana
Peanut, sunflower or almond butter
Rice cakes
Cheerios
Orange colored fruit (melon, peach, orange)for beak
Honey
Preparation
Spread nut butter over one side of rice cake.
Cut and place two thin circular slices of banana for eyes and dab the center with honey.
Place a blueberry in the center of the banana. The honey will act as glue.
Cut a small triangle from the orange fruit and place it under the eyes as a beak.
Cut two apple slices and place one on each side of the rice cake as "wings".
Decorate the rest of the rice cake "body" with Cheerios.
Enjoy!
Autumn Mac & Cheese
Things you will need:
1 cup of pureed butternut squash, pumpkin or carrot, as much liquid removed as possible.
6 to 8 slices of Bacon
Half a stick of butter
1 1/2 cups of whole milk
1 1/2 cups of heavy cream
2 cups of shredded Fontina cheese (or any other cheese you prefer light in color)
1 cup grated Parmesan cheese
4 cups of elbow macaroni (or any other pasta noodle you prefer)
4 tablespoons all-purpose flour
1 tablespoon salt
1 tablespoon pepper
1 teaspoon fresh garlic
1 tablespoon fresh chopped parsley
2 tablespoons of fresh chopped sage
1 cup of panko bread crumbs
1 1/2 tablespoons of olive oil
Red, orange and yellow food coloring
Preparation
Cook bacon until crispy and set aside
Boil pasta, drain and mix in a little bacon grease to prevent sticking, then set aside.
Preheat oven to 350 degrees.
In a large to medium pot over medium heat
Add butter, sage, and garlic. Once butter is melted, add salt, pepper and flour. Stir constantly to combine.
Whish in heavy cream and milk slowly. Let thicken, stirring often, until it bubbles.
Add Fontina little by little, stirring often until melted.
Once cheese is melted, stir in puree and chopped sage.
In a separate bowl mix together panko, parmesan, parsley and olive oil.
Divide the cheese into 3 separate bowls and add a color to each – red, yellow, orange. Try to make it as bright as possible.
Divide noodles up into 3 separate bowls and add 1 bowl of colored cheese to each. Mix until noodles are well coated. Let sit for 3 minutes to absorbed color. Don't let sit too long or cheese will harden too much.
In a large baking dish, add colored mac and cheese little by little or layer by later. Toss/stir very minimally
Sprinkle panko/parmesan mixture on top.
Bake for 30 minutes until top is golden brown and dish is bubbling.
You can sprinkle with extra bacon and sage if you wish.
Enjoy!
Dinner
Cherry Chicken
Things you will need:
8 chicken legs or thighs
1 cup of cherries, pitted and halved
Orange zest
2 tablespoons apricot jam
1/2 cup of water
3 tablespoons of butter
A pinch of thyme
Preparation
Preheat oven 425 degrees.
In a casserole dish, place chicken and cherries.
Mix apricot jam, orange zest and thyme into water and then pour over chicken.
Cut butter into small squares and evenly place on top of the chicken in casserole dish.
Bake for about 40 minutes, turning over after 20.
Enjoy!
Apple Butter Pork Chops
Things you will need:
2 pork chops
6oz of apple butter (regular or cinnamon)
1/2 teaspoon of chopped sage
3 tablespoons butter, divided
2 apples cored and sliced
2 tablespoons brown sugar, packed
1 teaspoon maple syrup. (Agave or honey works too)
1/3 cup heavy cream
Salt and pepper to taste
Pinch of nutmeg (optional)
Pinch of cayenne pepper (optional)
Preparation
Season both sides of each pork chop with salt and pepper.
In a large pan, melt two tablespoons of butter over medium high heat then add the pork chops. Cook each side for 2 and a half minutes.
Set aside pork chops to rest on a separate.
Use the same pan to melt 1 tablespoon of butter then add the apple slices and sage. Cook for about 5 minutes.
Add about 6 ounces of apple butter to the skillet. Then add brown sugar, cayenne, nutmeg and maple syrup. Mix together well for 20 seconds.
Gradually mix in the cream. Stir until it lightly boils.
Move the apples aside to create an empty space in the pan and add the pork chops back into the pan. Make sure no apples are under the meat.
Place a bit of apple butter on each side of each pork chop as you cook them, and brown for 3 to 4 minutes on each side.
Serve hot with the apple mixture.
Enjoy!
Dessert
Autumn Donut Hole Trees
Things you will need:
1 cup of fruity pebbles
1/4 cup of agave (royal icing works too)
A small brush
5 donut holes
5 small chocolate covered pretzels sticks
Parchment paper
Preparation
Cut all donut holes in half.
Cut all chocolate covered pretzel sticks in half and set aside.
Place donut holes flat side down on parchment paper and brush with agave or icing. Let dry for one minute. (You may need a second coat).
Sprinkle with Fruity Pebbles
Stick one chocolate pretzel into bottom of each donut hole to make a "trunk".
Remove from parchment paper and enjoy!
Apple Ginger Plum Pie
Things you will need:
For the pastry-
An assortment of leaf or other autumn themed cookie cutters
2/3 cup flour, plus a little extra for dusting
6 tablespoons of unsalted butter
2 tablespoons of caster sugar
2-3 tablespoons of cool water
Parchment paper
For the filling
About 14 to 16 small black plums, pitted and sliced
4-5 Honey crisp apples, cored and sliced
1 tablespoon crystallized ginger, chopped
3 crushed cloves
1 tangerine, juiced and zested
.5 oz maple syrup
1 tablespoon brown sugar
To glaze
2 tablespoons of whole milk
2 tablespoons of granulated sugar
Preparation
Place flour, butter, salt, and sugar into a blender or food processor and pulse until it looks like bread crumbs.
Add water and stop as soon as the dough cones together.
Remove dough and knead for 1 minute.
Wrap in parchment paper and chill in the fridge 30-40 minutes.
As pastry sets, make the filling by placing the fruit in a bowl with the candied ginger, crushed cloves, maple syrup, tangerine juice and zest, and brown sugar. Mix together.
Put the fruit mixture and juices in a oven dish or baking tray. Dump it as is, or place in a desired pattern/arrangement then set aside.
Heat the oven to 390 degrees (355 for gas).
Take the chilled pastry and roll out on a lightly dusted surface to a size slightly larger than the dish. Trim to size and use the extra pastry with the cookie cutters. Lightly press the shapes onto the dough. Or cut multiple dough shapes and layer on top of fruit as a crust.
Brush top of pie with milk and sprinkle with sugar.
Be sure to cut a little slit in the pie dough for steam to escape.
Bake for about 50 minutes or until crust is golden brown.
Allow pie to cool for about 15 minutes
Enjoy on its own or with ice cream.
Crafts
Autumn scented play-dough
Things you will need:
Food Coloring – Red, Yellow, and blue
1 cup flour
2 Tablespoons cream of tartar
1/2 cup salt
1 Tablespoon vegetable oil
1 cup water
1 Tablespoon ground cinnamon, nutmeg, clove or vanilla extract for each batch.
Preparation
Sift together flour, salt and cream of tartar. 2. Add to pot then add water and oil.
Turn the stovetop on medium heat and frequently and consistently.
Add scent/spice of choice
When dough becomes a ball, remove from heat, let cool and knead in food coloring. Mix all colors in a bowl before adding to dough.
Play! Use cookie cutters for added fun.
To make colors:
Brown –
1 drop red
10 drops yellow
2-3 drops blue
Red –
20-30 drops red
Orange –
10 drops red
20 drops yellow
Yellow –
30-40 drops of yellow
Edible Apple or Squash Slime
You will need:
1/4 cup pumpkin, squash or strained apple sauce
1 cup Coconut milk
1 dash of cinnamon, all spice, clove or other scent/flavor you prefer
9/16 cup Cornstarch
1 teaspoon powdered sugar
1 teaspoon Xanthan gum
Preparation
Mix all ingredients in a pan over medium heat.
Lower heat and quickly whisk for about 2 minutes as mixture cooks.
When it's done, it should resemble slime.
Remove from heat and place on corn starch dusted parchment paper or cutting board.
Knead slime as it cools while adding 1 tablespoon of corn starch.
Play with or eat, but be sure to enjoy!
Fall Is a Great Time to Make Memories Cooking With Your Kids
Go ahead, play with your food. Enjoy learning and cooking with your kids with these fun, original recipes!