Long Island Gymnastics Lessons from Your Local Kids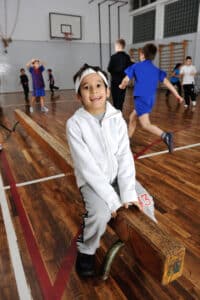 An after school program is one of the best ways to keep your children engaged in learning while doing something fun. Parents who need to work throughout the day often rely on family and friends to help watch their kids after school, but you don't have to. One of the most popular after school activities that parents sign their kids up for are gymnastics classes. Gymnastics lessons can help children stay physically active while making friends and trying something new. If you find your child doing somersaults all over the house or doing cartwheels in the backyard, then you should consider one of our many gymnastics lessons on Long Island.
Find Gymnastic Lessons in Nassau County
Find Gymnastic Lessons in Suffolk County
One benefit of gymnastics lessons is that it allows your children to meet new friends who all share a common interest. It also lets kids be a part of a team and learn the importance of teamwork at an early age. This will be beneficial for them in their future no matter what they end up becoming when they grow up!
Another benefit of learning gymnastics is it can also help kids with their balance, coordination, and strength. In gymnastics, you use different parts of your body in different ways, which will help them to build strength throughout their entire body. As your children get older, they will continue to improve these attributes by learning and experiencing more challenging routines and movements that they will continue to learn throughout the years.
By enrolling in gymnastic lessons, children will begin to understand the importance of commitment and dedication. Gymnastics is fun, but it is also very challenging and you need to be extremely focused and disciplined. It takes a great deal of concentration to learn and this can improve your child's cognitive ability as well as their hand-eye coordination.
For many years parents have been able to depend on Your Local Kids to help them find some of the best after school programs on Long Island for their children. As parents, we understand how important after or before school programs are and how they are able to enrich the lives of young children. That is the reason why we provide a dependable website that helps parents find gymnastics lessons in Nassau and Suffolk County for your future star-studded gymnast!