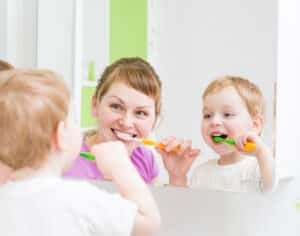 Healthy Dental Care for Kids
February is National Children's Dental Health Month, and Your Local Kids has some pointers to help your child establish healthy dental habits to practice throughout his or her life. The American Dental Association recommends that children brush for at least two minutes, two times daily. In infancy, try to avoid leaving your child with a bottle at bedtime; and brush their gums with a washcloth or gauze to remove bacteria. Don't share utensils with your baby; as it is possible to transfer bacteria that can cause tooth decay.
When your child's first teeth come in, it is important to find a pediatric dentist and begin scheduling regular visits. Our Long Island Children's Healthcare Guide can help you locate a reputable dentist in either Suffolk County or Nassau County. Choose someone that both you and your child feel comfortable with. The earlier you are able to establish a routine schedule with a dental provider, the less anxiety your child is likely to have with dental visits.
Assist your children with brushing in their younger years. It is important to use no more than a pea-sized amount of toothpaste while reminding your child never to swallow it. Many kids are able to start brushing independently around the age of 3, but it can help if you demonstrate to them how you brush your teeth. Help them to establish a routine by trying to brush around the same time each day. When easing children into brushing, a good tip is to allow them to brush on their own (with supervision) in the morning, and to help them with their nighttime brushing.
Setting good dietary guidelines for your kids early on will encourage both healthy teeth and a healthier lifestyle. Avoid foods high in sugars or starches; and when they do occasionally indulge, remind them to brush immediately afterwards. Limiting snacking between meals will also help children avoid cavities.
Be sure to discourage anything that can be potentially damaging to teeth at an early age, such as thumb or finger sucking. Encourage your child to wear mouth protection while participating in sports, and contact your child's dentist in the event of any mouth pain or injury. Your dentist will be able to advise you of any fluoride supplements that may be necessary for your child; and can help advise you on ensuring a lifetime of healthy teeth.