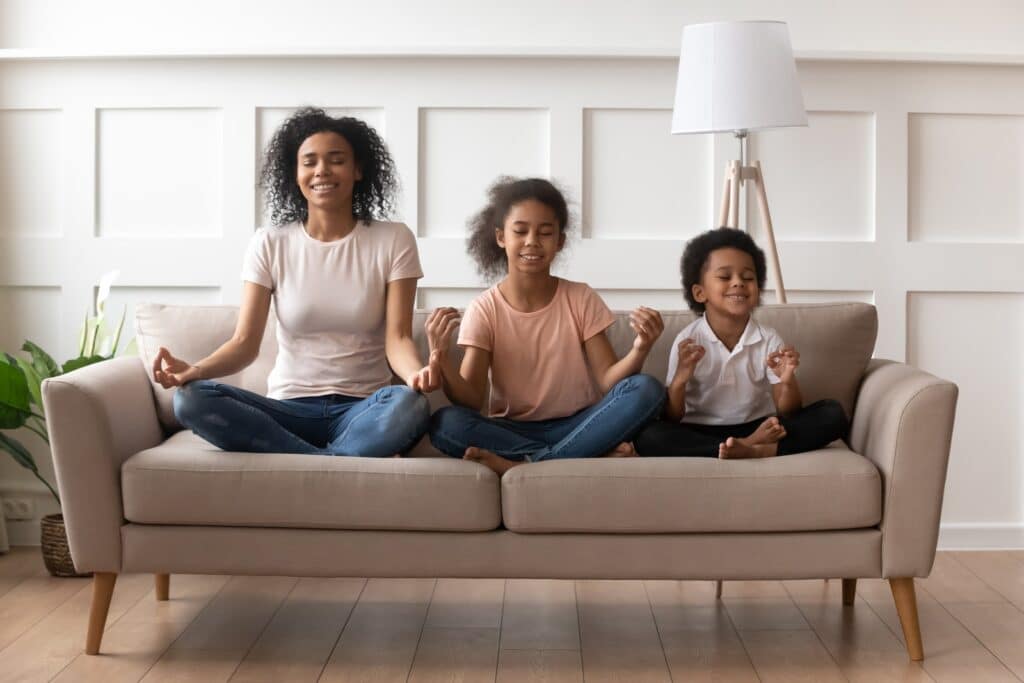 In these times of uncertainty on Long Island, it's important for your child to have a place to retreat to and a routine to keep them calm, cool and collected. Because we are coming into a stage of "renewal" where things could become anxious or stressful, it's important to hone in on these skills before the school year starts in the fall.
First, it's important to find a self-care routine that fits your child's lifestyle. If your child loves to move, maybe a quiet, eyes closed meditation isn't for them. Today we're giving you options for each child and household to make self-care work for you and your family. Try a few out, and keep track of your child's emotions and feelings. If possible, you want a routine they can do without you when they feel scared or overwhelmed as well.
Sometimes, it only takes a minute or two to refocus our energy and emotions. Mindful minute meditations are great for children. These meditations help your child to refocus by shifting their energy and attention to a task. You can try the ones we linked above, or head over to YouTube.com to find some guided and participate with your child. Mindful minutes are a great skill to carry with you if you're out in the world, they can help a child readjust in a stressful situation no matter the setting.
For some children, art is a great way to focus energy and emotions. It can be as simple as a coloring page or drawing their feelings in different colors or as complicated as compiling a Zen garden they can come back to when they need clarity or space. And again, if this skill set works for your child you can take it with you most places and practice it anytime. If your child is an artist, this may be the way to Zen for them and it may be what helps them express emotions when words fail. Even some therapists find the best way to a child's mind is through their art.
Audio Meditation
Audio meditations can be found on any streaming platform such as Spotify, Audiable, Amazon or YouTube. Audio meditations are great for children who are auditory learners. We suggest finding a quiet space and closing your eyes when you try this skill. Help your child find a "meditation space" where they can go when they need to turn off the world. Make sure they have headphones and their device and let them have a compiled playlist to choose from.  Audio meditations are often used in medical clinics for children who have autoimmune or muscular illnesses and are a proven method of treatment. They're great to help your child when they're feeling ill or emotionally triggered.
Journaling
Much like some kids are audio learners, some children learn by reading or writing. Journaling is a great way for a quieter or more private child to deal with their emotions. You can find journal prompts or free write depending on your child and their learning style. Some of our favorites are:
I am feeling overwhelmed because
5 things that make me happy
I know I am loved because
My favorite things to do alone are
You can also find mindful stories to read your child in the bookstore or on kindle and have them journal their feelings during or after the story.
Yoga is a great selfcare routine for your mover and shaker. For children that love to get moving, you can find yoga games or stories on YouTube or Pinterest. We linked a fan favorite above that will keep your child's imagination busy and free from stress for as many hours as they'd like. Don't be afraid to join your child in a yoga lesson. This is great for bonding and can help relax you too!
None of these work for your child? Try other simple methods of selfcare that you can practice every day
Read a book or a chapter in a book
Make a list of things you'd like to do this summer/fall, etc.
Take a bubble bath with a bath bomb or bath crayons
Go outside and find some rocks or leaves to color
Go for a long walk
Take 5 deep breaths
You Can Help Your Child Find a Self-care Routine that Gives them Mental Clarity
Everyone child's needs are different and you have to do what works for you and your family. Take the rest of the summer to map out a selfcare plan that works for you. Now that you have the tools, help your child find their "safe space." Maybe you can take some time to decorate the space with their favorite things, or build a tent out of blankets. Make sure your child knows this is their selfcare space. They can go here when they're overwhelmed, scared or having a bad day. Arm your child with the skills they need to handle anything the world may throw at them. And make sure they have a few skills in their pocket to take on the road. Who knows, maybe they'll influence a friend or family member to try these skills as well. Could you imagine a world where selfcare is the answer? In times of such uncertainty, it just might be.