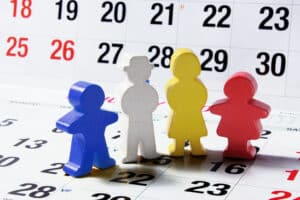 If you were lucky enough to grow up on Long Island, you've probably witnessed a great deal of changes throughout the years. Nowadays, things tend to change so quickly it can be hard to keep up! Your Local Kids has put together a quick guide to make a family time capsule for the next time you're looking for things to do with your kids, so that your family memories can last a lifetime!
To start establishing your time capsule, first choose a container that is large and sturdy enough to hold your contents. You'll want to choose something that is both leak-proof and able to withstand the test of time. If you have a large family, or are extending an invitation to your relatives to contribute to your project, it may be more sensible to choose something such as a plastic bucket or a Tupperware container with a lid. Decide where the best place would be to store your capsule. You may want to aim for a closet, attic, or basement if possible – anywhere that your capsule is guaranteed to remain undisturbed until it is time to open it.
Next, you want to select a day that everyone will be available to make a contribution to the capsule. Try to choose items you know will be nostalgic in the future, such as current newspaper articles, photographs of your home and surrounding neighborhood, and cut out images from relevant entertainment magazines. Ask yourself the questions you have about the past, and try to incorporate similar items from present-day into your capsule. Don't forget to include family photos, dated and labeled, as well as anything sentimental and specific to your household!
Lastly, delegate a future date for your time capsule to be re-visited. You may set the date for a major milestone – such as a child's 21st birthday, anniversary, graduation, or new stage of life; or even just a specific time frame – such as 5, 10 or 20 years. Regardless of what you choose, decide to host a 'Time Capsule Party' as a type of family reunion, in which everyone will once again meet up to share in these memories. Print the date on the outside of your container, assure your time capsule is secure, and set it aside until the date you've agreed on!
Liked this article? Checkout our Archives for more.