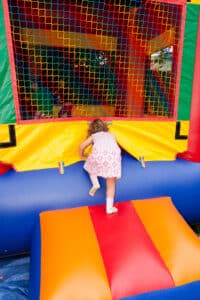 If you're searching for kids party ideas on Long Island, look no further. Whether it's too cold or too hot to play outdoors, you can still entertain your kids – from toddlers to teens – at an Inflatable Party Center on Long Island! There are few better ways to spend a rainy day with kids than at one of the area's family-friendly inflatable party centers. These venues in Nassau and Suffolk counties offer fun for children and adults of all ages, and for many, the sky is practically the limit! These indoor facilities are full of inflatables and trampolines to help everyone literally soar to new heights.
What's the big attraction? Whether you're looking for an open play place, a birthday party location or simply an activity to do on a rainy day, there are many additional activities at these places besides just jumping and bouncing. Although, the whole family can get in on the jumping and bouncing and it's a great stress reliever (and if anyone needs to bounce and jump their stress away, it's parents)!
Day and evening events such as Family Bounce Nights, Preschool Playdates, Turbo Bounce, 6-and-Under open bounces, plus birthday party packages, camp programs, and even parents' night out events are available at venues in Nassau County and Suffolk County.
Most Inflatable Party Centers on Long Island feature large rooms with various entertainment options for everyone, including arcade games, air hockey, foosball and more. Activities for younger kids include foam crawl-arounds, large and small slides, play cars and more.
Kids can have the chance to chase and race each other through inflatable obstacle courses, tunnels, slides and bouncing areas. Some Long Island Inflatables Centers also offer laser tag, rock climbing, trampoline bungee jumping and fitness classes. Some game centers also offer basketball and volleyball and even combination games.
If you find your high-energy kids are bouncing off the walls, it might be time to head to one of the many bounce houses and trampoline parks on Long Island. From inflatable slides to obstacle courses and high-flying trampolines, these play spaces are great ways for kids to work off their energy and have some indoor fun when it's too hot, too cold, or too wet to play outdoors.
Try an Inflatable Party Center for Your Next Long Island Event
Whether you're looking for an impromptu bouncing session or want to schedule a birthday party, most Inflatable venues offer a variety of play options. Just be sure to check out their websites for all the specifics. Most centers require socks and some require completed parental waivers before participation is allowed. Some offer open-play sessions during week days and on some weekends, depending on party schedules. Birthday parties are usually the main attraction. Party packages can be combined with food and beverage options and some unique extra twists added in, depending on the specific venue.