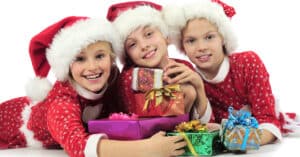 Holiday shopping can be stressful for anyone.  This is especially true when you have kids!  Between getting your hands on the sold-out "it" toy of the year (anyone have a spare Hatchimal!?) or tirelessly trying to make everyone on your list happy, it's far too easy to find yourself too close to the holiday with too much shopping left to do.  Not to worry! Your Local Kids has you covered with tips for last minute gift ideas to get you through the homestretch of holiday shopping!
Gift an Experience
A gift card for a night out at the movies, tickets to a play or concert, lessons of any kind, crafting class, "spa" day, or whatever other fun activity comes to mind is a quick gift that is easy enough to get that doing so won't interfere too much with your busy holiday schedule.  Your Local Kids maintains a convenient Events Calendar that will make researching and choosing the activity a breeze! Kids who receive this type of gift will appreciate it after the holiday season is over and the excitement of material items has faded – and it will give you an opportunity to create lasting memories.
Books
In keeping with the theme of quality time and appreciation, books are great, inexpensive gifts that keep on giving.  Wrap them individually so your child can tear them open one-by-one!  Kids love to sit down and hear a good story while following along with the pictures, and parents will love the opportunity for quality time that encourages their children to use their imaginations and unplug from the tech-heavy world we live in.
Sponsorship of a Wild Animal
Many organizations around the world offer the opportunity to symbolically adopt an animal of the species of your choosing.  The proceeds go to efforts to protect these animals and their habitats.  There are many species to choose from – the World Wildlife Foundation, for instance, offers the adoption of a wide array of creatures from Great White Sharks to Narwhals to Monarch Butterflies and everything in between.  This particular organization will send you a photo and plush toy of your adopted animal along with an adoption certificate and species card, which will help your children feel truly connected and give them a sense of pride for helping to protect these creatures.
Magazine Subscription
A subscription to a magazine chosen based on your child's interests is an inexpensive and easy to purchase gift that will keep on giving all year long.  If your children can't yet read, they will still enjoy looking at all the photos just as much!  They can even cut the pictures out to make crafts.  If your child is old enough to read them through, ordering them a subscription to a magazine geared toward what they like is a great way to develop good reading habits and get them to read on a regular basis!
Your Time (The Best Gift of All!)
Pick a specific day of the month and carve out a few scheduled hours where you spend one-on-one or family time together.  You can let your child decide whether this time will be spent at the park, the movies, going out to eat, or doing something different each time!  You can create a fun "gift certificate" out of construction paper to present on the actual day, and then have your kiddo help you mark off the chosen dates and times on the calendar for the next year!  Ultimately, giving your child the gift of time with you will provide a lasting appreciation that you simply can't get from material items or toys.