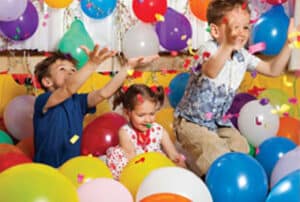 Long Island children's entertainers and performers can elevate an otherwise "ordinary" kids' party to the next level.
These days, Long Island parents hire party entertainers not only for birthday parties but also other children's special occasions, like sports celebrations, holiday parties, end of school events, and much more. Kids Halloween parties are becoming more and more popular and it's one of the extra special reasons to hire a professional to bring a theme together.
Some people think entertainers are just there for the children to watch, but the best children's entertainers and performers on Long Island know exactly how to engage kids – even the most shy ones – in active participation. Children can get a chance to actually participate by singing, telling jokes, dancing, creating and showing enthusiasm and encouragement to other kids. Entertainers can build confidence in children in a way that parents simply can't and at the same time they allow parents and party planners more breathing room so they are relaxed when the party begins and even when it ends.
A skilled children's entertainer and performer has the ability to enter a room full of kids with music, stories, magic tricks, balloons, games and jokes and take control of the situation and create a lively environment and ensure a fun time for everyone – parents and adults included! These performers can help keep kids from being bored and ensure that each and every child is included and engaged. The party can be so much less stressful and memorable when all of the children feel special and included. There is less competition among children because most professional entertainers have a "bag of tricks up their sleeve" which can equate to fewer tantrums, less crying, more laughs and many more smiles. Entertainers know how to cover a lot of ground so no one is left out and no one gets special treatment. The party organizer can breathe easy knowing that the children are engaged so there is more time to focus on the food, beverages and socializing with adult guests.
Often times hiring a professional entertainer can actually save the party host a lot of time and even money over trying to think of, purchase and arrange for party games and activities. Many adults can't even begin to think of how to entertain large groups of children and trying to can become very stressful and, in the end, the party can go over like a "lead balloon."
Whether you are the parent or the event planner, being in charge of the party, you will have your hands full with keeping up with the schedule, pleasing the guests, and constantly checking on the children. It can end up being very difficult and stressful to keep up with a group of children and try to accommodate many different needs and personalities types. A professional children's entertainer or performer can relieve you of the major task of entertaining the children, giving you time to focus on other things at the party!
Long Island Party Entertainer & Performers Ensure Your Child's Party is a Success
A passionate and skilled Long Island children's party entertainer or performer can keep the children at the party mesmerized and happy from the beginning to the end of the party. Everyone involved wants to see the happiness and smiles reflected on children's faces when they are thrilled by party magic and entertainment whether the source is from a talented professional clown, balloon artist, magician, musician or combination performance artist. They can help make any kids party smooth, fun and completely memorable for everyone involved!