Make a Cardboard Picasso Head
By: Riesa Fischer
The Amazing Possibilities of Art
This is a perfect time to teach our children about the amazing possibilities of art, and how we can make it out of anything. Currently, I am all about causing the least amount of stress to our parents and do not want to encourage going to stores or even ordering online.
Use Materials You Already Have Around the House
This may change as the kids run out of stuff…. BUT everything I have been doing has been with materials a lot kids already have at home.
Printer paper, pencil, marker, colored pencils, crayons..paint, glue…. whatever they have. We do projects that are educational and fun, and make them think….
Cardboard Picasso Head is Fun & Educational
One project that I love : cardboard Picasso Heads. Take a bunch of cardboard scraps from the recycling bin and cut them into shapes of eyes, mouth and nose, you can even add ears and hair!  Find a larger piece of cardboard and cut out a head. You can paint or use markers to color each piece a different color and then glue the pieces onto the larger piece, and place the facial features in areas where they would not usually belong.
Viola ! You have a Picasso head!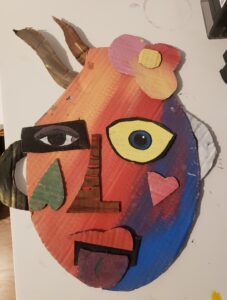 Simple Inexpensive Art Project Educates & Entertains
See, you don't have to spend a lot of money or risk going shopping during these times of social distancing to create a great art project that will entertain and educate your children at home. This simple Picasso Head art project has tons of possibilities. What other art projects can you think of using materials you already have on hand?
About the author: Riesa Fischer is the owner of Key to My Art Studio in Amityville, NY – www.keytomyart.com