Boutiques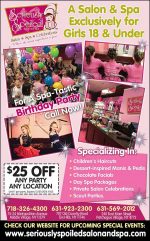 Looking to celebrate your birthday in a unique and sophisticated setting? A Seriously Spoiled offers the highest standards of excellence in salon and spa services.
Welcome to Once Upon A Sundae!
Your child deserves a unique and memorable party where he or she can bond with friends and have fun doing the things that kids love to do.
There's a bit of darling and diva in every girl, so let both sides shine at Darlings & Divas party place and boutique.