Walk-In Activities
Candy Buffet Tables, Candy Buffet Tables, Concessions, Concessions, Craft Parties, Craft Parties, Doll Parties, Doll Parties, Kids Party Places, Party Places for Kids, Party Providers that Come to You, Party Providers that Come to You, Walk-In Activities
The Lanyard Ladies, Arts & Crafts Birthday Parties! The most talked about Birthday party on Long Island and the tri-state area.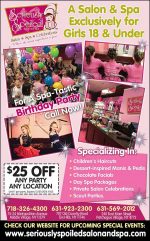 Beauty & Spa Providers, Beauty & Spa Providers, Boutiques, Boutiques, Gift Ideas, Gift Ideas, Glamour Parties, Glamour Parties, Kids Party Places, Party Places for Kids, Spa Parties, Spa Parties, Walk-In Activities
Looking to celebrate your birthday in a unique and sophisticated setting? A Seriously Spoiled offers the highest standards of excellence in salon and spa services.