Usdan Summer Camp For The Arts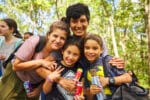 Usdan is an award-winning not-for-profit day camp for the arts. Profiled in The New York Times and Time Magazine, Usdan has been declared a "Best Of" camp by Time Out NY Kids and NY Metro Parents. Diverse and playfully rigorous, for fifty-four years Usdan has brought experienced educators and professional artists—actors, directors, painters, sculptors, musicians, dancers, poets, and novelists—to teach and collaborate with campers ages 5 to 18. There is no previous experience required to attend, only an open mind and a curiosity for the arts.
Usdan is set on an idyllic 140-acre woodland campus on Long Island, dotted with open-air studios and performance spaces designed to inspire creativity, collaboration, and experimentation. Campers create their own summer camp experience, by choosing three classes in our Departments of Art, Chess, Creative Writing, Dance, Music, Nature & Sustainability, Theater, and Recreational Arts. The Usdan experience is unique among camps in the region as it brings together the rigor of artistic practice and the playfulness of a classic summer camp.
Bus Transportation is available from across Long Island, as well as Manhattan, Brooklyn, and Queens.
Usdan believes that every child who wishes to attend should be able to. In 2021, 40% of students attended Usdan on scholarship. We welcome you to apply today.
Visit our website to learn more.
Send Message to listing owner
Usdan Summer Camp For The Arts