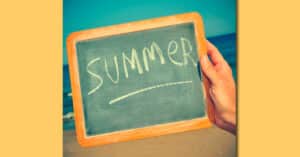 Summer is here, and we know that means the beaches across Long Island will be open for the season! There are a few things to keep in mind before packing up the family and rushing to the beach, we have outlined 3 extremely important preparations to consider.
Find Kid Friendly Beaches
There are hundreds of beaches across Long Island, but to make the most out of your summer days and keep the children happy and entertained, narrow your beach search to those that are super kid friendly.  Tobay Beach centrally located in Massapequa, offers both an ocean side beach and a calmer bayside beach which is the south Oyster Bay.  There is something for all ages at Tobay; the boat basin, concession stands, restaurants, surfing, and body boarding.  The beach also features a playground, a sprinkler spray park and a miniature golf course.  For resident and non-resident parking information please see the Town of Oyster Bay homepage.
The world famous Jones Beach in Wantagh stretches 6.5 miles long with sandy beaches and iconic boardwalks. At Jones Beach families can enjoy walks on the boardwalk, the many playgrounds, a public pool, miniature golf and several food concessions. Some evenings there is live music on the boardwalk amphitheatre.  Jones Beach is also home to the Nikon Jones Beach Theatre featuring headlining shows all summer long.
If concerts and beach don't excite you then check out the Theodore Roosevelt Nature Center, children can feed live marine life or walk through the butterfly garden.  For additional information on park hours and parking please visit the park's homepage.
On the North Shore of Long Island, Cedar Beach on the Long Island Sound, is a good choice for a child friendly beach and park. Cedar Beach is part of the Town of Brookhaven  and offers a main and west beach.  There are food concessions available, playgrounds, basketball courts, fishing pier and a walking trail.
Child Safety
The excitement of being outdoors, warm weather and the healthy summer sun makes it easy to forget about safety, but protecting your children from the environment, the elements and their surroundings is paramount. One thing to keep in mind is the summer heat; kids love to run around outside, but they need to be properly hydrated. According to an article in Parents Magazine, children do not automatically cool down as efficiently as adults do because they don't sweat as much, putting them at higher risk of dehydration.  Always have plenty of water and juices, ice pops or cut-up fruit to help replace the fluids.
Protecting children from the damaging rays of the sun is also at the top of the list for child safety. According to the Centers for Disease Control and Prevention, finding the shade, wearing hats and sunglasses and applying adequate sunscreen will help prevent skin damage in children later in life.
Water and swim safety is essential during the summer months. We have to be cautious around swimming pools, beaches and lakes.  Many of the local beaches offer swim lessons for children. Check out our local pools that offer swim lessons in Nassau and Suffolk counties as well.
Pack the Right Stuff
What to bring to the beaches; most beaches provide amenities where you can change babies and children, and some beaches have little shops if you should need to purchase beach attire, sunscreen, or rent chairs or umbrellas.  Be sure to pack, cold drinks, cool snacks, sunscreen, towels, spare change of clothes, extra cash for parking and souvenirs, insect spray, any sports toys, balls, buckets, shovels, and most of all your blankets and chairs.
The winters on Long Island are long, and the summers are greatly anticipated, but we have to remember to prepare accordingly. For additional tips please keep checking our blogs and for new upcoming events please view our local calendar.