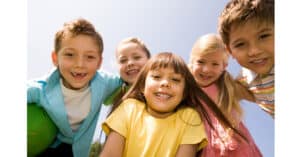 Children and families alike need to keep busy during the summer months. A great way to be active, stay fit and have some fun is to find things to do on Long Island and participate in some local fundraising athletic events.  Most of these events fall into the category of walk-a-thon, 5k or other running and race-like events. Most are sponsored by a charitable organization and are excellent fundraising events,. They're also a good way to teach children to give back to their communities.
Fruit Shoot Mini Mudder
On July 23 & 24, 2016, there will be a local Mini Mudder in Old Bethpage.  Fruit Shoot has partnered with Mudderella and Tough Mudder to create a spectacular event for kids; Mini Mudder.  The Mini Mudder is a one mile obstacle course designed for children ages 7-12. The race is  not timed, to help children focus on participation as a team rather than finishing times.  If you register for this event, part of your fee is a contribution donation to Right to Play, an organization supporting communities who suffer effects of poverty. The Mini Mudder is a great way to teach children to be adventurous while working together as a team, enforce their belief that they can do anything and most of all get muddy as kids should! To find a Mini Mudder event near you please visit the information page.
Long Island Heart Walk
The American Heart Association hosts a fundraising walk for the entire family in various locations across the country.  The Long Island Heart Walk will be held on September 18, 2016 at Jones Beach.  The event is a way to promote healthier lifestyles and to create awareness and prevention of heart diseases.  This is an event to prove rewarding to the entire family.  Walkers complete a beachfront 5k course. Children ages 5-12 have a separate event designed especially for them.  The kids will complete a half mile of obstacle fun for a small $10 donation for participation.
Participation in local Long Island events as families is important to demonstrate a growing sense of community.  It teaches children to live active lifestyles by participating in physical fitness events as well as enriching them by teaching them to give back to the communities in which they live.
Soul Cycle Ride for Kids
On July 28, 2016 Soul Cycle in Bridgehampton is hosting their 6th annual ride for kids benefiting NYC nonprofit Change for Kids.  The ride will be led by celebrity trainer Stacey Griffith.  For registration and additional information please visit the Change for Kids website.
As always we look to keep you and your families active in our communities and enjoying all of the things that Long Island has to offer.  Please continue to visit our blog for the latest on events in the local area.